Books and back-to-school go hand-in-hand, so today I want to talk about some books that are great to read if you have a child going back to school or if you work in a school and are looking for the perfect welcome back message.
But, first, I want to talk about Classroom Bookaday. Classroom Bookaday has a goal to read aloud a picture book every day of the school year at any grade. It was started by Jillian Heise, and was inspired by Donalyn Miller's bookaday effort.
More and more schools are doing this and seeing real results. Things like better, stronger conversations about topics — funny and serious — that a picture book can introduce easily. Calmer and more centered students who use the daily read aloud as a time to listen, connect and regroup. Increased interest in the school library by students and teachers. A stronger grasp of language and sense of story. And greater understanding and empathy among the students. In fact, one student started referring to the read alouds as "family time."
And don't think Classroom Bookaday is just for small children. Teacher T.J. Shay runs a Morning Book Club in his high school, where students voluntarily come in before school each day to read and discuss a picture book. And two authors I know — Jennifer Ziegler and Chris Barton — read a picture book together every evening.
Some schools keep a visual record of each book they've read on a bulletin board or classroom door. Some vote for favorites. But all you really have to do is set aside a bit of time and read. Every day. No matter what.
Not sure where to start? Classroom Bookaday has a very active Twitter feed that will get you going. And Jillian Heise is working with Follett Classroom to create suggested reading lists.
If I were getting going this year, I'd start with these books: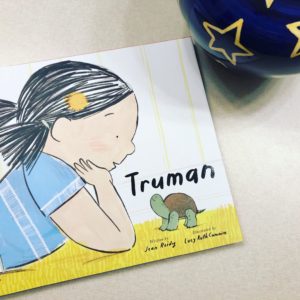 TRUMAN written by Jean Reidy and illustrated by Lucy Ruth Cummins. This the story of a quiet, deep friendship between Sarah and her pet tortoise, Truman. They enjoy spending calm days together until, one morning, Sarah gives Truman two more beans than usual, puts on an extra-big backpack and gets on a bus. Truman knows this can't be right, so he summons up his courage to try and save his friend. Who might not need saving after all. This book is exceptionally well-written and illustrated and will start all kinds of conversations. (And just to put this out in the universe, I want to make a picture book with Lucy Ruth. She's that awesome.)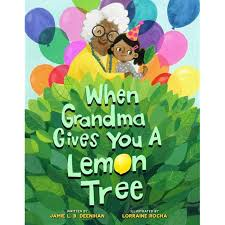 WHEN GRANDMA GIVES YOU A LEMON TREE written by Jamie L.B. Deenihan and illustrated by Lorraine Rocha. This is a funny, delightful book about getting a gift you didn't really want, but loving the person who gave it to you and then realizing that, possibly, your grandma was right all along and that there are other ways to get what you thought you wanted. There's a great subplot in here about people's reliance on their electronic devices that kids will be sure to have opinions on.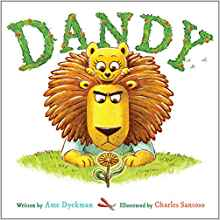 DANDY written by Ame Dyckman and illustrated by Charles Santoso. This is a hilarious story about a bunch of dads who are, shall we say, a bit over-zealous about their lawns. Until, one small child falls in love with a dandelion and the dads must decide: What's more important, a weed-free lawn? Or a child's happiness. Awesome story with a perfect ending.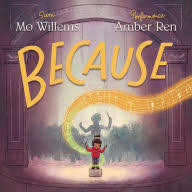 BECAUSE written by Mo Willems and illustrated by Amber Ren. Willems is known for his books about an opinionated pigeon. This is a different type of tale for him. It's about how small actions can build on each other and lead to outcomes you might not expect. It's great if you love music and the arts, but its message applies to anything, and I could see kids creating their own Because stories based on a series of seemingly unrelated events.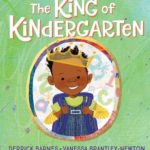 KING OF KINDERGARTEN written by Derrick Barnes and illustrated by Vanessa Brantley-Newton. This is jubilant look at how awesome starting kindergarten will be. As The Bulletin of the Center for Children's Books wrote: "There are plenty of reassuring books about starting kindergarten, but this delightfully moves beyond, 'It will be OK and you might even like it,' to a straight out, 'You will crush this!' Note: This is not just for kindergarteners.
And, I do have to say, if you've got some extra time, my book, BE KIND, was used in a lot of classrooms last year, and I am so very grateful. It would make a fine bookaday addition, as would REMARKABLY YOU and WHEN YOU ARE BRAVE.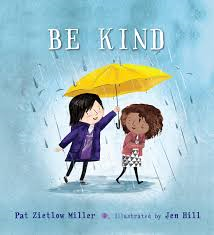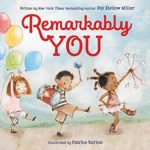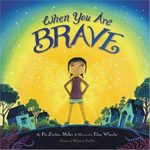 So get a pile of books, gather some students, a spouse, a friend or even a stranger off the street and start reading! You'll all be better for it.