I have to admit. For most of my life, I didn't know a lot about Gertrude Stein and Alice B. Toklas.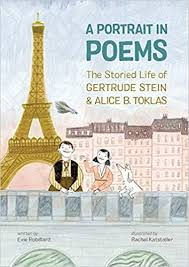 I mean … I had heard of them. I knew they were a couple, and I knew they did literary things.
I may have vaguely associated them with France.
But, honestly, that's about all I knew.
Now that I've read A PORTRAIT IN POEMS: THE STORIED LIFE OF GERTRUDE STEIN AND ALICE B. TOKLAS, written by Evie Robillard, illustrated by Rachel Katstaller and published by Kids Can Press, I know a lot more.
And, finding it all out was delightful.
This is a beautiful picture book that has some characteristics that are not traditionally picture-bookish.
It has a table of contents. Quotations scattered throughout that explain Gertrude and Alice's life. A timeline. A resources list. An author's note. And a page called "Snapshots" where Katstaller redrew photos of Gertrude and Alice together and Robillard wrote clever captions highlighting events that didn't fit into the main story.
And the main story itself? It's lovely.
The first line starts: "The next time you go to Paris …" Granted, many readers, myself included, will never have been to Paris even once. But the line is full of such possibility. Such expectation. And, it immediately pulls the reader into the book so they can see themselves in Gertrude and Alice's story even though it happened long ago and far away.
The main story incorporates beautiful, simple language with periodic, perfectly logical questions incorporated to keep the readers and listeners engaged. Even if they've never heard of: "Matisse, Cezanne, Gauguin, Marie Laurencin, Georges Braque, Juan Gris. And, of course, Picasso. The one and only Pablo Picasso."
The book covers how Gertrude met Picasso, and how he painted her picture. How Gertrude met Alice and how they became inseparable. How Gertrude and Alice met tons of other Parisians, who wanted to see their many paintings and talk with them each Saturday night.
There are lovely lines throughout. About how Gertrude almost liked one of Picasso's paintings. How she didn't care much for grammar and spelling and punctuation. How her dog, Basket, taught her about sentences and paragraphs. How Gertrude died and Alice lived for a long time after.
All the information a curious person might need to know. The next time they go to Paris.
Happy reading!