One of my favorite parts of the picture book process is seeing the final artwork for each of my books. It's great seeing how a talented artist interpreted my story.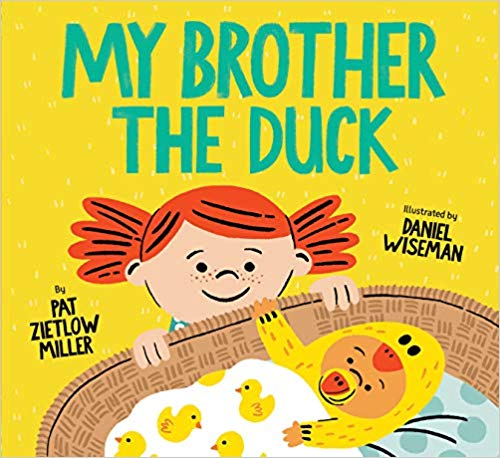 And, I was especially excited to see Daniel Wiseman's art for MY BROTHER THE DUCK, which releases April 21 from Chronicle Books. His work is bright, cheery, sunny and funny. Just what I need now with all the uncertainty going on in the world.
The book is about Stella Wells, a fledgling scientist, who is pretty sure her brand-new baby brother is a duck. So, she sets out to test her hypothesis by gathering evidence. Stella's got STEM skills to spare, but is she ready for what she'll discover?
Daniel was kind enough to answer some questions about how he created the art for this book.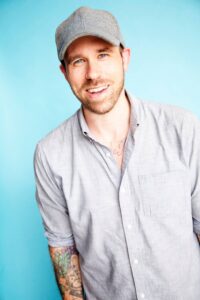 What initially made you interested in illustrating MY BROTHER THE DUCK?
I was initially drawn to MY BROTHER THE DUCK because I loved the manuscript. It had a lot of room to inject humor, but it also had a certain sweetness that I like to think I expanded upon through my style of illustration.
I'm excited by stories that have an equal amount of charm, wit and humor, and MY BROTHER THE DUCK really nails all three. Outside of that, I was really excited to work with Chronicle and Sara Gillingham, the art director. The process really challenged me, and I feel like a better artist because of it.
What process did you follow to decide on your approach to the book?
This book took longer than any other book I've worked on. It took me a while to find my rhythm and land on a style that was right for the story. I don't know if it's this way for other illustrators, but I usually have an existential crisis somewhere in the middle of every project. I begin to question my decisions, and start to think about other possible career choices … just kidding!
But there's always a point where I lose confidence in myself. Once I found the right style and design of the characters, things began to go more smoothly. Sara and I worked very closely on composition and character expressions to make sure each page propelled the story forward. At the end of it all, it felt like the book took just the right amount of time to come to fruition, and I'm very proud of what we ended up with.
What spread or illustrations are you most proud of?
I like them all a lot, but there are a few that stand out for particular reasons. I love the big, red spread of Drake crying in his swing, and Stella holding her ears. As a parent of two little guys with big lungs, I can almost hear those pages!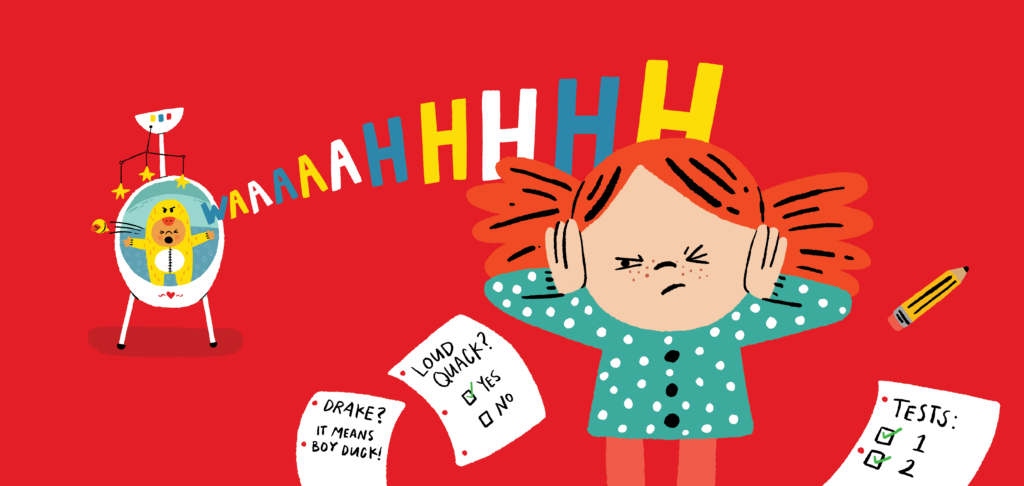 I also love the spread in the school hallway with all the kids walking. I love drawing pages full of characters because I can add so much color, detail and expressions. I like to think about what each kid might be thinking, or where they're going next. That was a fun one!
And lastly, the family photo page is kind of an inside joke for myself and my best friend. When we were younger, his family had this very large, canvas photo of themselves posed nicely with black turtlenecks and khakis on. I made fun of him a lot for that. I thought I'd pay homage to it by having Stella's family wearing the same stylish outfits!
Do you have experience with ducks? Science? Babies? How did that influence how you illustrated the book?
I have a small amount of experience with ducks and science, being that I grew up on a farm that had some ducks on it, and I have a parent who is a doctor. However, I have a lot of experience with babies, being the father of two young fellas.
I think being a parent influenced how I depicted the parents in the book. Especially the spread where they are coming home from the hospital. I've been that dad carrying all the stuff, sweating the inevitable years of sleepless nights starting all over again with the second child!
Whose illustration skills do you admire?
Gosh, there's so many! From the past, I love Richard Scarry, Quentin Blake, Tomi Ungerer and Roger Duvoisin. There are also a lot of working illustrators whom I can't get enough of, like Ben Clanton, Zachariah Ohora, Bob Shea, Ed Vere, Jared Chapman and Micah Player. I could go on and on.
What other projects do you have in the works?
I have several things going on at the moment. Just in the past few months I've wrapped up a few picture books.
RAD! by Anne Bustard comes out May 5, 2020. It's about skateboarding cats.
WHAT ABOUT X? by Anne Marie Houppert comes out August 2020. It's about the entire alphabet going on a camping trip.
THE WORLD NEEDS MORE PURPLE PEOPLE by Kristen Bell and Benjamin Hart comes out June 2, 2020. It's a how-to-guide on how to be a good (purple) person.
And I'm just about to finish up another one called DON'T HUG DOUG by Carrie Finison, which comes out next year. It's about a little guy named Doug who isn't really a fan of being hugged.
I'm also working on writing a book of my own! I won't divulge too much about it other than it's about dinosaurs and puns. Needless to say, I try to keep myself pretty busy!
How to get a copy
If you'd like to get a copy of Daniel's and my work for your very own, please consider ordering MY BROTHER THE DUCK from an independent bookstore. Like all small businesses, they've been hard hit by the COVID-19 pandemic, but many are offering mail service or curb-side pick-up.
If you don't have an independent bookstore, you can order from Bookshop. This online bookseller shares part of its proceeds with indie bookstores across the country.
And, if you'd like a copy signed by me that comes with a cool sticker, call Mystery to Me: An Independent Bookstore at (608) 283-9332 and leave a voice-mail message or send the store an email at [email protected]. They will ship the signed books right to you.
With social distancing, there are not as many ways for book creators to spread the word about their latest offerings. Schools are closed. Conferences are canceled. Bookstores and libraries are shuttered. Launch parties are a no-go.
That leaves online and good, old-fashioned paper mail. I'm sending out more than 1,000 of these postcards. I like addressing them, because it gives me the chance to think fond thoughts about each recipient. Maybe one will be coming your way.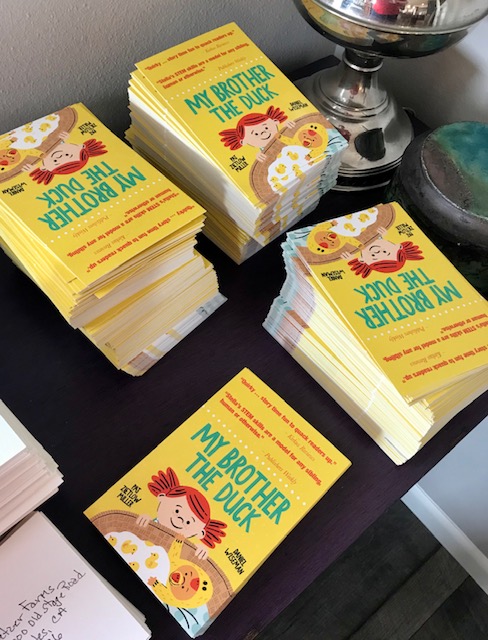 Keep reading. Stay safe.