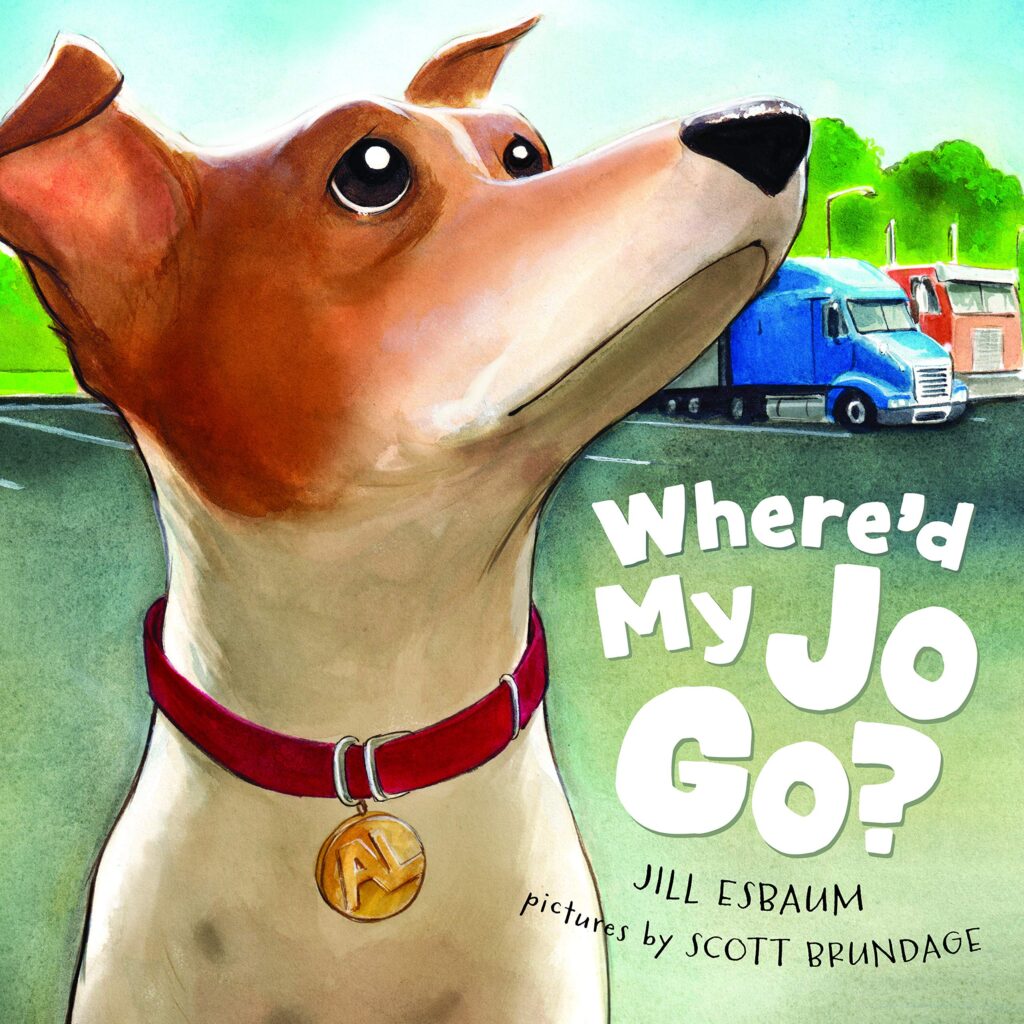 This oh-so-appealing doggy is Big Al. Early in this story, he becomes separated from his over-the-road trucker friend at an interstate rest stop (she thinks he's sleeping in the back of the cab). Does he panic? Does he bark incessantly? Does he run off along the highway in search of her?
No. He tells himself to Sit. Stay. Wait for Jo. He knows his best friend will return for him. For sure. Probably. He hopes….
While he's waiting, there are other dogs to meet, flowers to roll in, picnic leftovers to sniff. But when it gets dark… Oh, Jo. Please, Jo. Remember me.
This one's based on a true story I saw in a newspaper. The article detailed the owner's angst over the two-day ordeal (long story, but the book has an author's note that explains). As I read the article, I kept thinking: But what about the dog? How'd HE feel? Poor little guy. My attempt to get into the dog's head resulted in the manuscript that became Where'd My Jo Go? Fortunately, Sleeping Bear Press hired Scott Brundage to bring the story to life. And, boy. Did he ever.
Let's just get to the interview. I want you to hear about Smoochie.
JE: Welcome to Picture Book Builders, Scott! What was it about this manuscript that made you want to illustrate the story?
SB: I'll take drawing animals over people any day. The challenge of making the face of an animal emote as much as a human's is so fun to tackle. Plus, it was about a dog. My editor didn't tell me what breed of dog, just that it should be "small and expressive." This meant I could audition all my friends' pups to see who would work best. Luckily, my buddy Tyler's dog, Smoochie, worked perfectly. He can look extremely sad one moment, then stoked to be alive the next. Also, I had just done back to back books on astronauts. So any story that didn't involve space ships was very appealing.
JE: Readers, in real life, the lost dog was a Yorkie. But I was happy to let Scott choose whatever breed he wanted. Scott, would you share a few of your initial sketches and tell us about anything that gave you trouble?
SB: I tried auditioning a couple dogs before sticking with Smoochie. My coworker's dog, Cheezit, is an adorable mess of a mini-poodle that could have worked, but I found the curly hair to be a bit constricting when it came to expressions.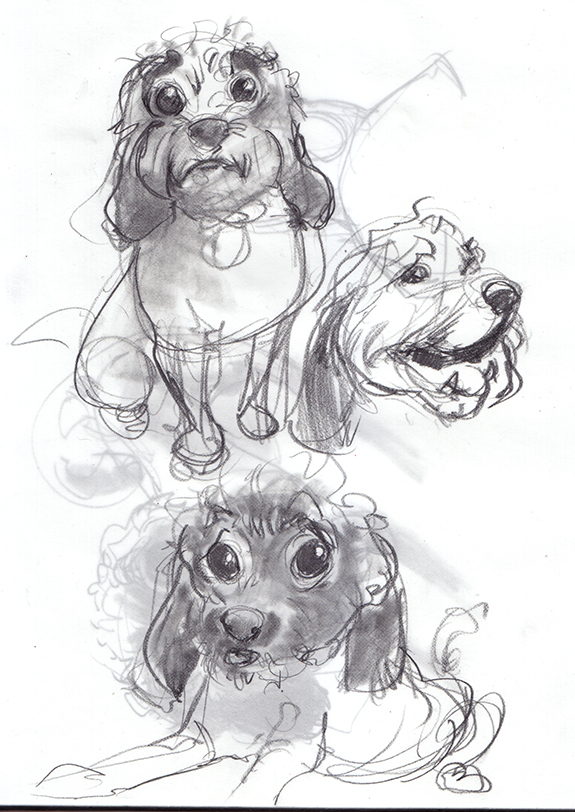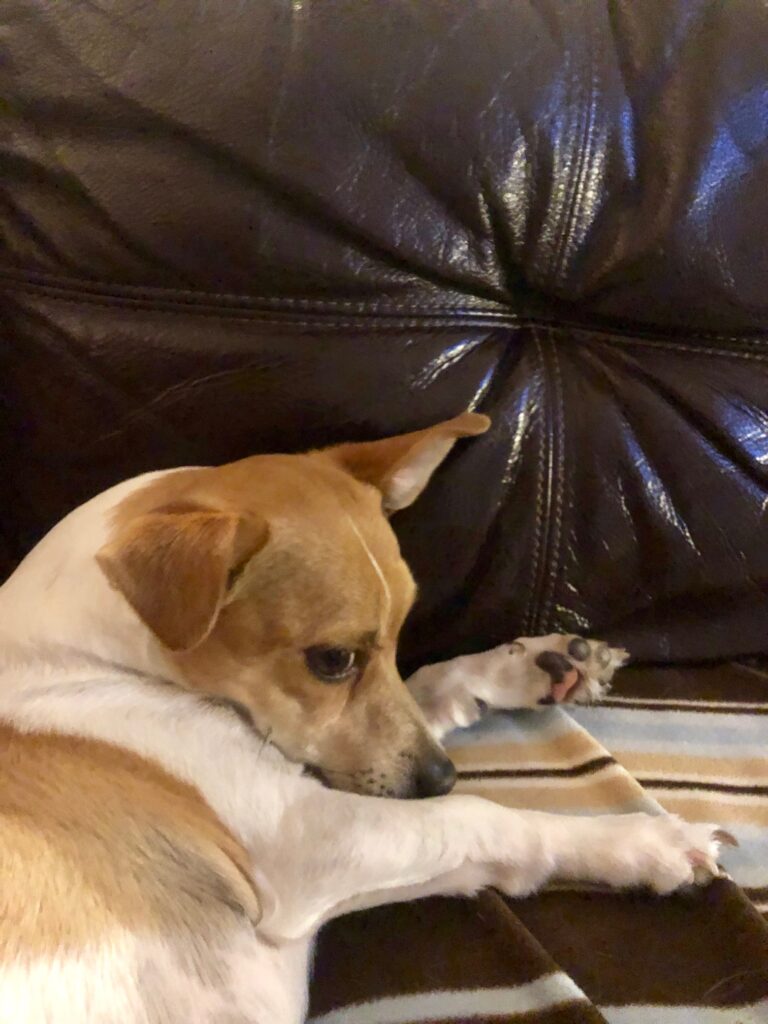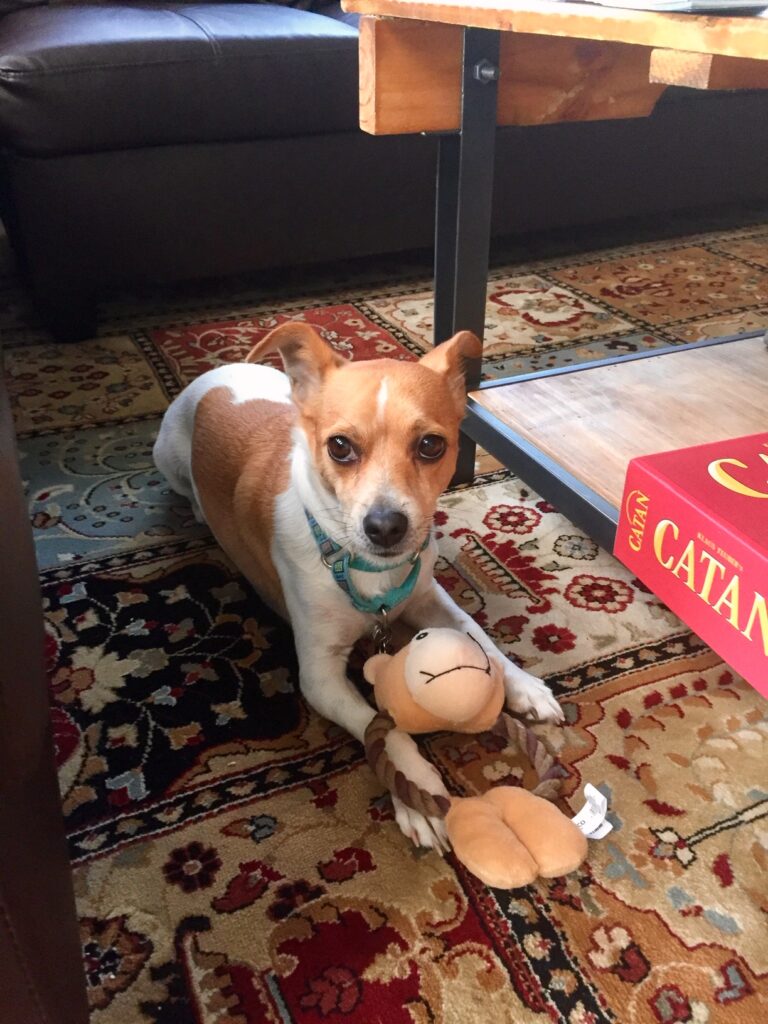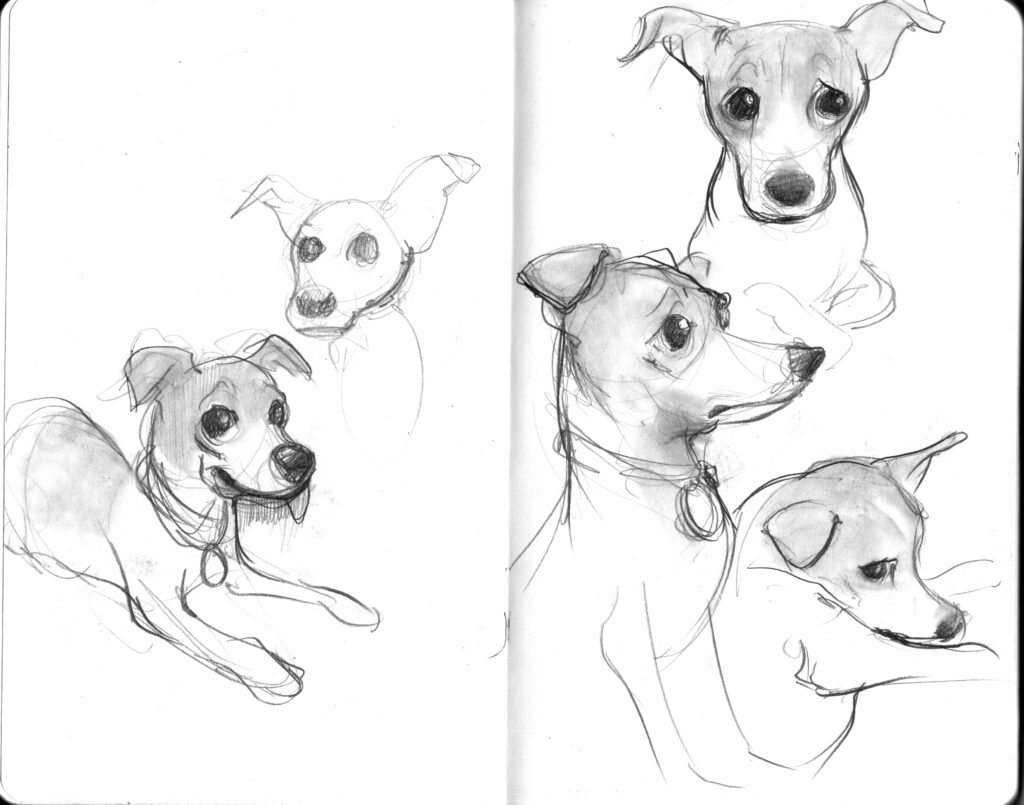 JE: I'm glad you settled on Smoochie. Those eyes! Could you tell us more about him?
SB: Smoochie is a total mess of a dog, and I mean that in the very best way. Unfortunately, I got to meet him after a sad situation where his original owner passed away unexpectedly. My friend inherited Smoochie afterward, and Smoochie was pretty traumatized for a while. He only trusted Tyler and had anti anxiety collars to keep him calm. I'm glad to say he's now a very well adjusted pup, living in a happy home with plenty of animal and human friends to play with.
JE: That's wonderful to hear. And Jo? How'd you come up with her?
SB: Another hurdle I had was landing on a design for Jo. If I were to close my eyes and think "truck driver" I'd likely just picture a big hairy man. I figured out pretty quickly that that wasn't the route I wanted to take, plus my editor said the real Jo was female. So my initial designs were for a cute African American female driver. After a discussion with my editor again, we decided to adjust to the final design with the red-headed character that appears in the book.
One of the more fun aspects of designing characters is thinking of how they'd dress, given what we know about them. Jo is a trucker, spends most of her time just with Big Al, mainly sitting in a truck. She'd likely dress more for comfort than presentation. So, croc-type shoes and a warm vest with stretchy leggings made the most sense to me, and a trucker hat just to top it all off.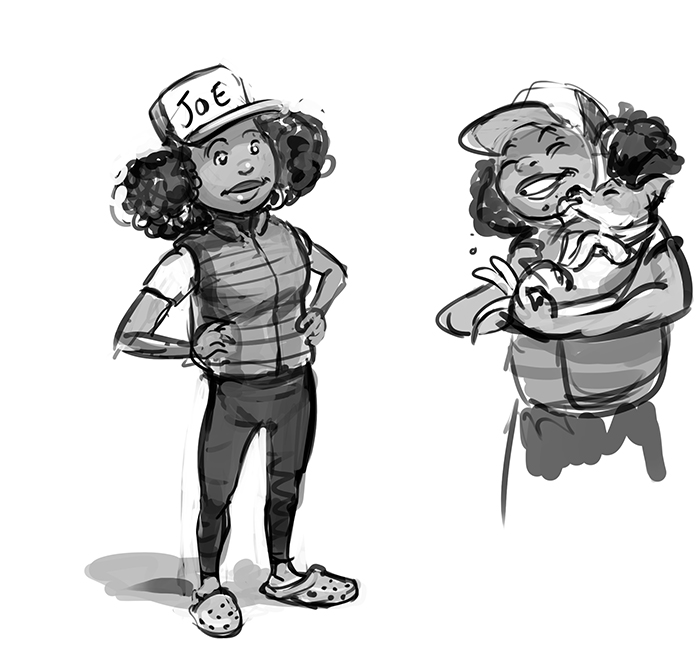 JE: That's what I'd be wearing to drive a truck. Actually, the real Joe was a man. And his name wasn't Joe…but I needed it to be for the sake of the rhyme. When our editor emailed to ask if I'd consider making Joe a Jo, I couldn't type "Yes!" fast enough. There are lots of women truckers out there (being heroes right this very minute!).
SB: One of my very favorite spreads from this book is when Big Al is remembering good times with Jo and watching the highway for her truck to come back. Whenever I can get away with bending reality a bit, I'll certainly try. Big Al is starting to come to the notion he's been left behind, and being a dog, highways don't make a whole lot of sense and every truck could possibly be Jo, but none are. I think any child has had similar viewpoints waiting for a friend or parent to come pick them up or take them somewhere. Every vehicle might be the one they are waiting for.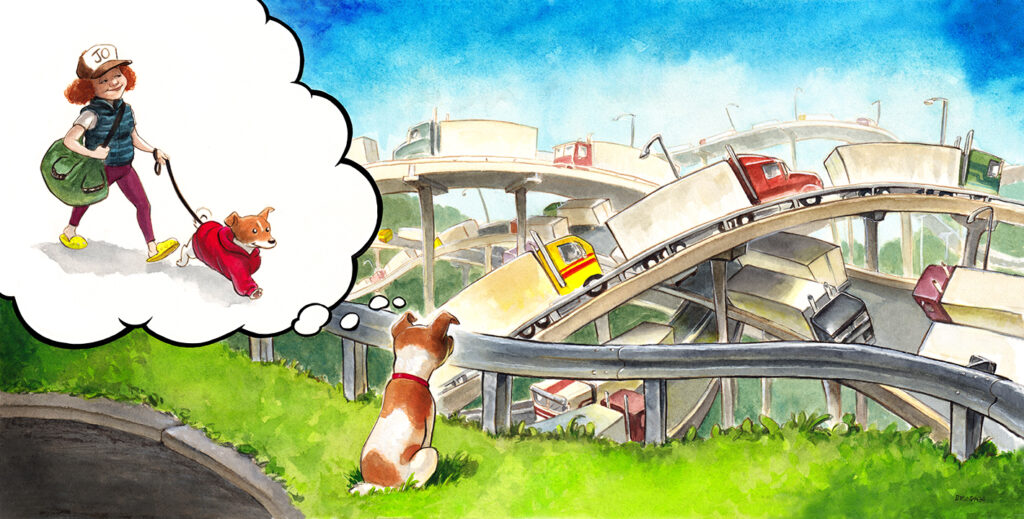 JE: So true.
SB: This vignette of Jo and Al sets the tone for their relationship. Buddies on the road together enjoying each other's company. And for me, doing a bit of research on the interior of a big truck was great fun. Small details I could never come up with on my own help make the image more interesting.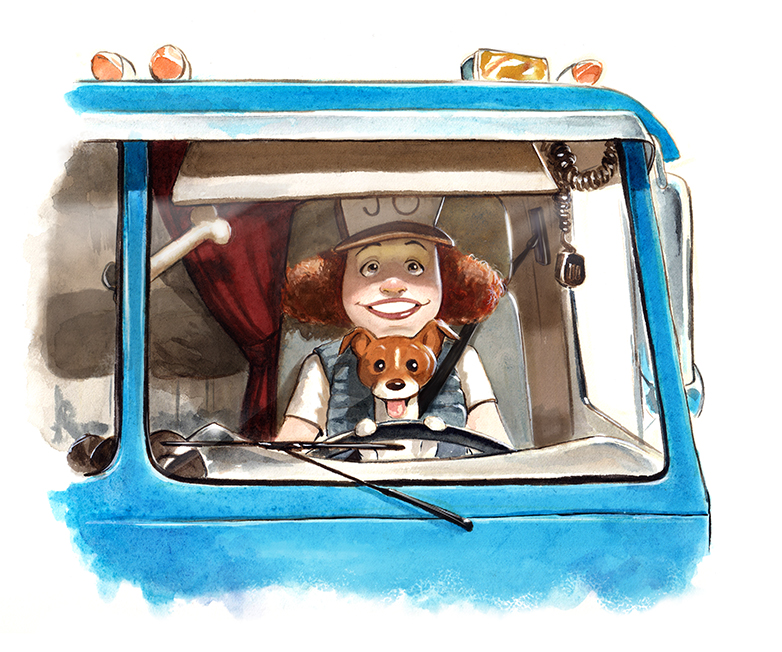 I loved all the sequential spot illustrations I got to make for this story. This page, in particular, was super fun with the droopy hound faces and showing Al's regretful decision to sample an old French fry.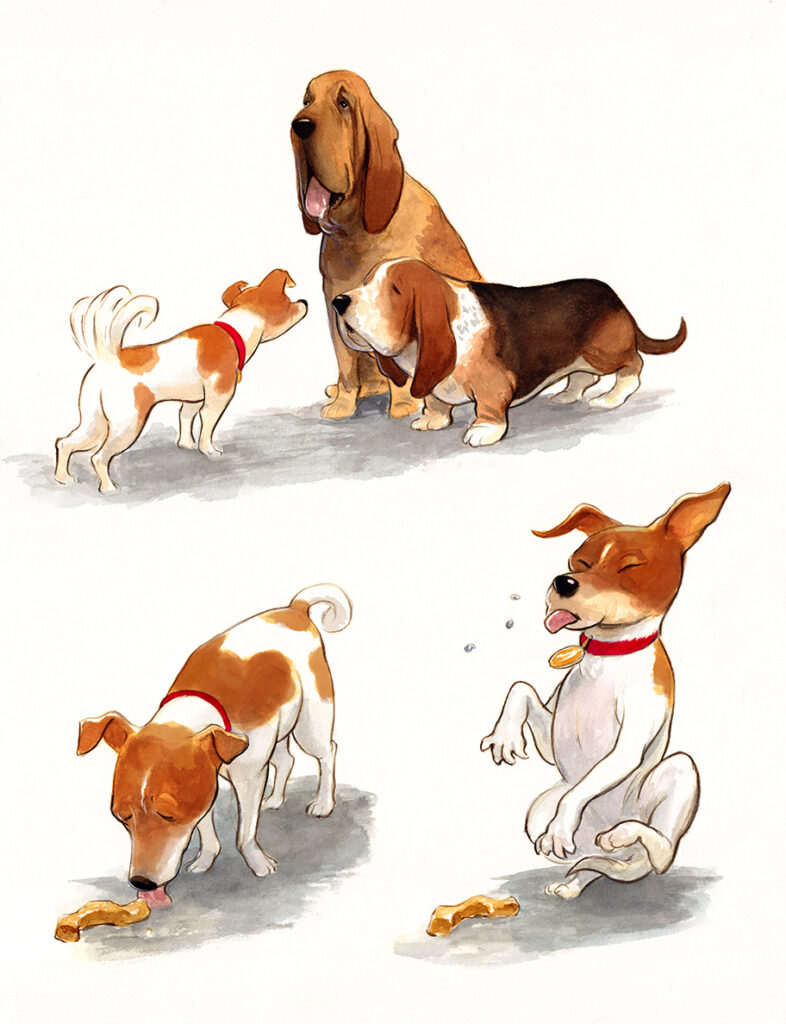 JE: Ha. These doggy expressions are terrific. There are so many great bits in this book, Scott. What kinds of projects do you have in the works?
SB: I just finished part of a season designing characters for Our Cartoon President on Showtime. I have some other animation projects in the works for the Late Show with Stephen Colbert, and some small films.
I'm also about to start a new picture book. This time about a bird and cow. So, obviously I'm very excited to jump into that one.
JE: Wow. You're busy! Thanks, Scott, for taking time out to visit with us. Best of luck on your many projects.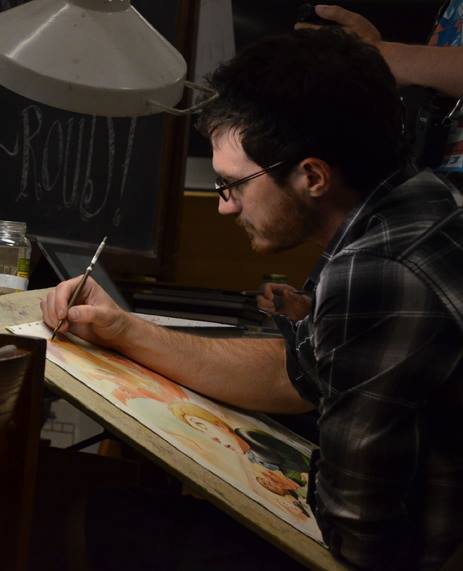 ---
Readers, Scott did an interview with the folks at KidLit911 awhile back. You can read that here.
And you can visit his website, here.
Where'd My Jo Go? releases April 15th, but you can preorder now! You might also WIN one of the THREE copies I'm giving away. All you have to do is leave a comment below. Thanks! (U.S. residents only, please.)
Meanwhile, the three winners of Frog Boots, the new book I featured on my last post, are Mark Ceilley, Zachary Snyder, and Debra Shumaker! Congrats, and thanks for entering!!!
Stay well, everybody.