Oh, Picture Book Builders people, summer is here! Author Meg Fleming and illustrator Paola Zakimi have just the book for us.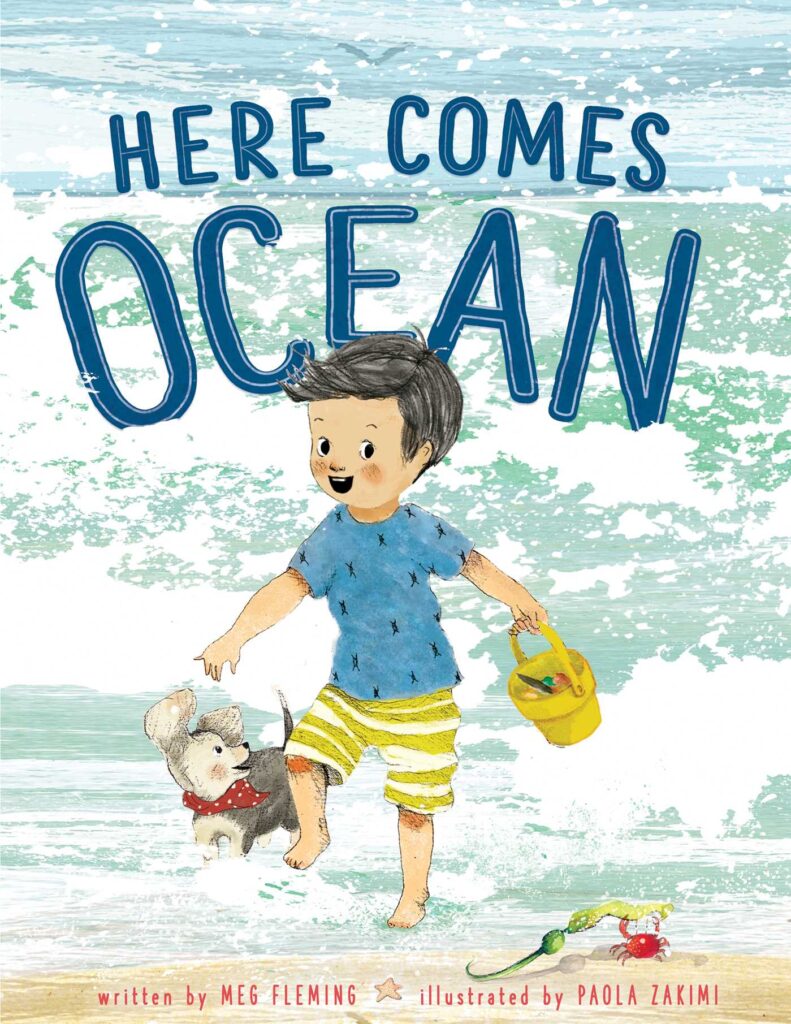 This is what School Library Journal and Kirkus had to say:
This first purchase is a perfect storytime choice to usher in the beach season, and the rhyming, repetitive text is simple enough to enable even the youngest children to chime in. A bonus: Youngsters will meet a few unusual ocean creatures, all of which are labeled on the endpapers."–School Library Journal (starred review)
"…a delightful day of beach exploration."–Kirkus
Nice, huh?
I thought we could all use a day at the beach. Joining us for this bit of fun in the sun is Meg Fleming.
Hi, Meg! Welcome to Picture Book Builders.
Hi, Tammi! It's an honor to be here, thanks for having me!
Tell us a little about your latest book, Here Comes Ocean.
Of course! Here Comes Ocean is a virtual day at the beach, complete with sand, salt and seashells. A family of three – and sidekick pup – take a trip to the beach and with each wave that rolls in, a new ocean treasure floats, skitters or crashes to shore. It's a book of great oceanic discovery!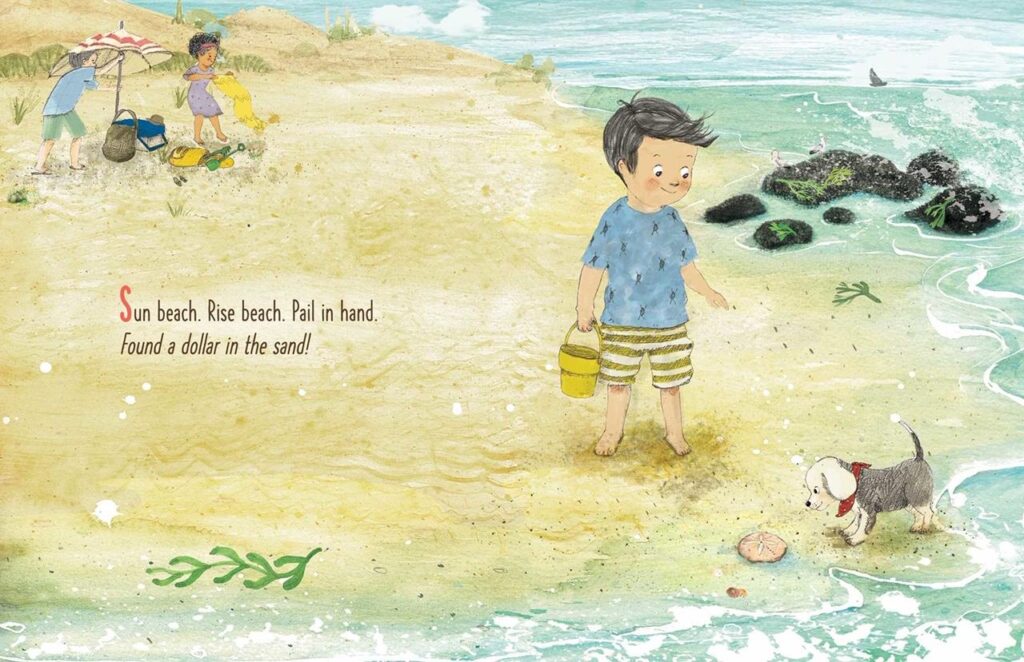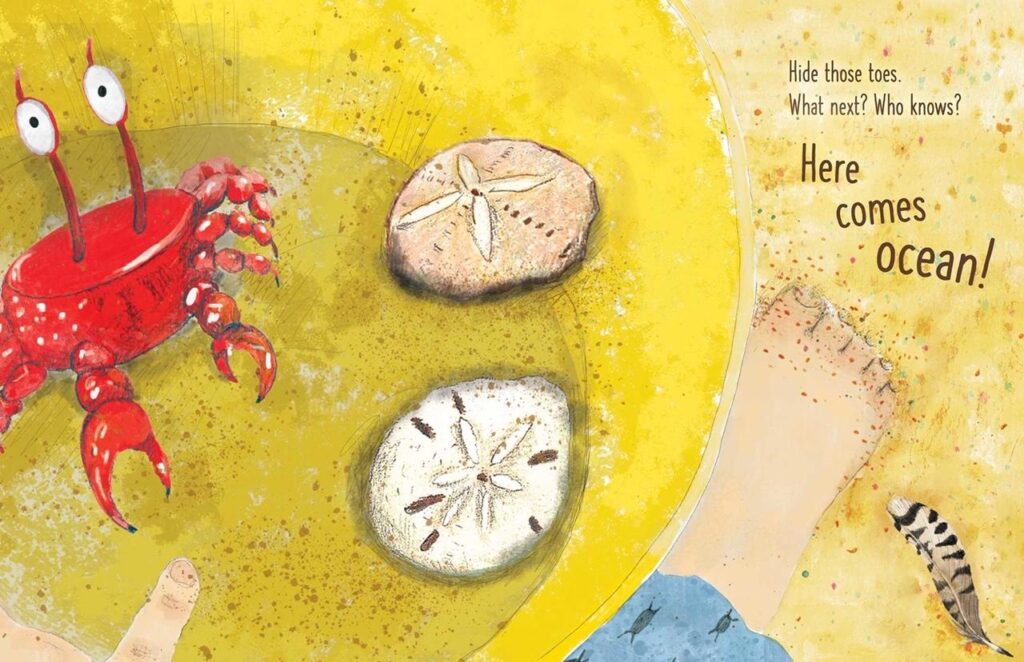 What was the initial inspiration?
I'm so glad you asked! A few years ago, my family was watching my 3-year-old niece, Marina, while my sister was busy having a baby. We took Marina to the beach for some fun and she and I were having a pretty massive conversation about seaweed when she noticed a big wave about to crest.
She looked at me. She looked at the ocean. She looked at me again, this time holding her pointer finger up and said, "Oh! Here comes Ocean." And with that she excused herself from our conversation to take her call with Ocean.
In three words she not only anthropomorphized the entire ocean, but she had a mission and a date to keep!
I couldn't stop thinking about it. She said it once, and it haunted me for two years until I figured out how to make it work in a book.
I love that! Hmm…I think I need to schedule an appointment to hang out with that niece of yours!
You are a master at creating fun-to-read-aloud, heartfelt rhyming picture books. What is your secret?!
Oh my goodness, Tammi! Look who's talking!! Stop making my day, THANK YOU!
It's not much of a secret, but here's what usually happens with me. As mentioned above, I usually become haunted by a couple of words. The word patterns, and the rhythm swish and sway around in my head until I can't contain the rhythm anymore, and I need to splat every possible idea out on a big sheet of butcher block paper. One hundred percent of the time, when I write in rhyme, I end up writing out the alphabet across the top of that giant sheet of paper. (Don't get me wrong, I know it… I know the song!) But there's something about the act of writing the alphabet that unlocks things for me.
I am constantly asking myself, is there a better word that says more? Once I have a ton of options, I circle my favorite stanzas and then begin my hunt for a story arc. It's truly an act of piecing together a puzzle… and it's my FAVORITE thing to do. And the heart falls in. You gotta have heart take-away. Heart is something that can't be injected like in a recipe, like "okay now add two and a half cups of heart." For me the heart part is either there from the get-go or it seeps into the piece during the revision process.
Most of the time it just comes naturally. I feel like if an idea doesn't have heart, I probably won't be compelled to write it.
Okay, in addition to booking that appointment with your niece, I now need to invest in some butcher block paper. What a fun way to dive into a story!
I love how your title is also a refrain that we see throughout the pages of this book. Not only is a refrain a great way to break up a rhyming text, but it also offers an invitation for little listeners to participate in the reading of the book. How did this title/refrain come about? Do you have any advice as to how to create just the right refrain?
Oh my goodness, I need the answer to this question right now for another manuscript I'm working on!
As I mentioned earlier, this perfect refrain and title came by way of a child, and her in-the-moment whimsy. I'm still amazed by how it happened. I think the key with this phrase is the anticipation. If we can come up with a succinct way to say, "But wait… there's more!" in a few words, then kids will want to hang around for the page turn.
In this instance, the refrain and title were easy to come by, but the rest of the story took some patience. In books I've written where the story comes first, it takes a lot of trial and error to find the right refrain. I have to revise a lot to land on the right set of words with the right beat.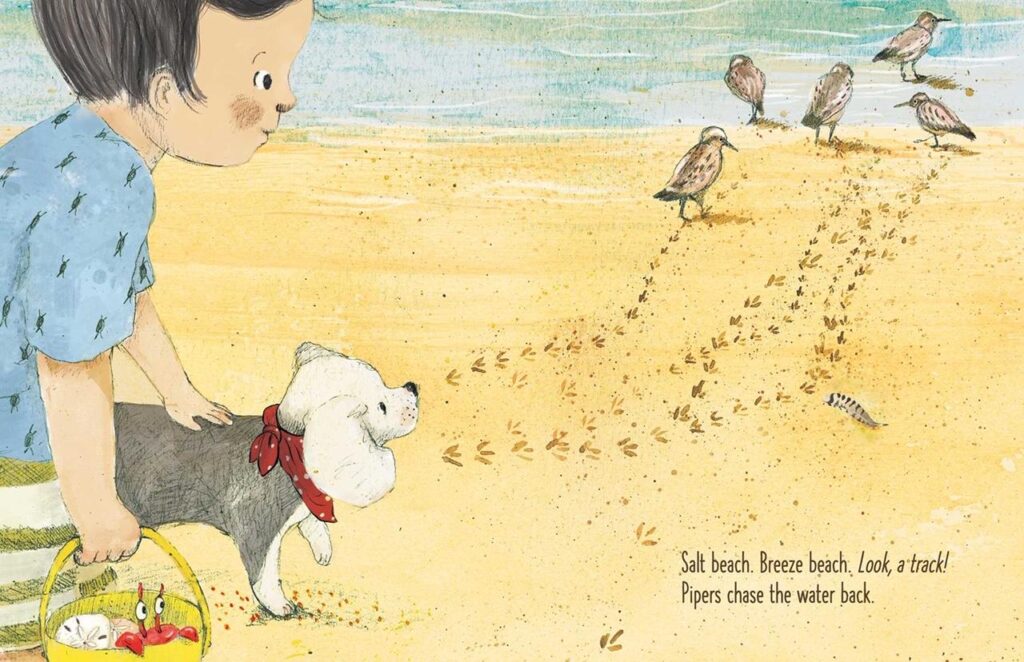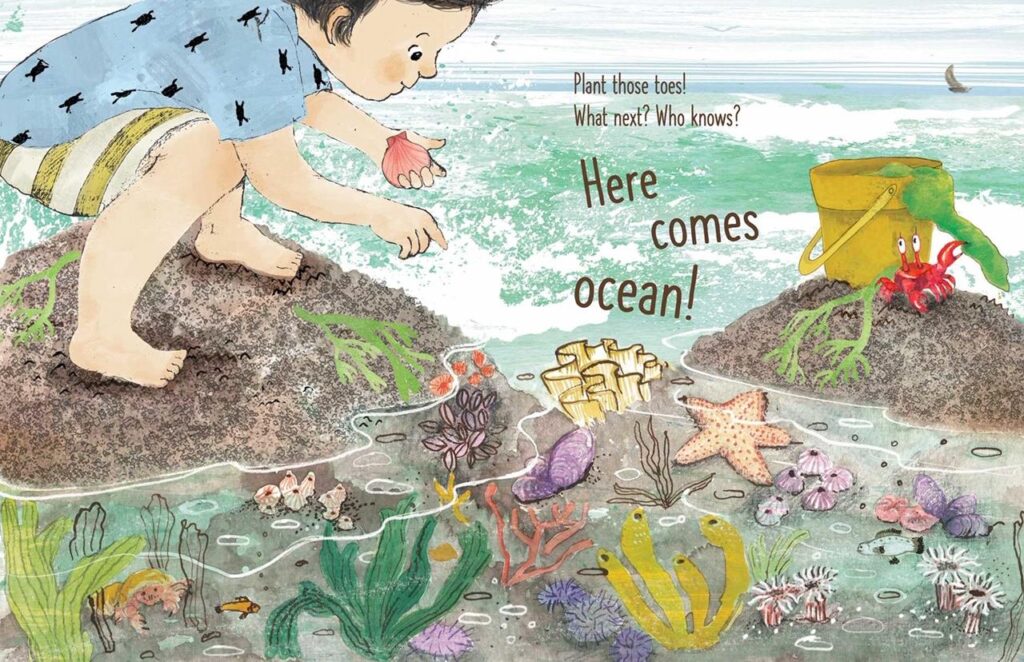 I am a big fan of some well-executed endpapers. The endpapers for Here Comes Ocean are gorgeous and informative. Who came up with the idea for them?
Oh my, so am I! I really wanted a learning experience to go along with all of these amazing critters, and also… how dreamy is Paola Zakimi?! I asked my awesome editor, Andrea Welch, if we could use the endpapers for some Ocean ID, and she said "yes!" As you know, it's always a beautiful group effort. Paola's artwork is transportive and I'm so glad we get the chance to spend time with the ocean treasures on the endpapers.
In a super geeky moment, I sent Andrea a spreadsheet of all of the common and Latin names for the ocean critters in the book. She told me that I'm the first author to ever send her an Excel doc. That is high praise coming to a girl who is the least linear thinker on land. (I will tell you this, the Latin name for By-the-wind Sailors is VelellaVelella. It didn't make it in the book, but you can see how I became obsessed with all these beautiful words.)
Oh, I am a total fan of super geeky moments. And how great is the word VelellaVelella?!
Scoop time! What's next for you?
Yaaay! Coming Summer 2021, I have a new book coming out called Sounds Like School Spirit and it's a pep rally on the page. Sounds Like School Spirit is being illustrated by Lucy Ruth Cummins, as we speak(!) and is published by Dial Books/Penguin Random House. I cannot wait to share this cheer-for-school with the world. After that, in Spring 2022, Wondering Around, illustrated by Richard Jones and published by Beach Lane Books/Simon and Schuster will be coming out. Wondering Around is a picture book that shows how wondering about little things can lead to big discoveries. I can't wait for this as wondering while wandering is an activity I hold near and dear to my heart.
Meg! I can't wait for these books! Thanks for stopping by and sharing so much with all of us. Now, if only I can figure out how to move Oklahoma closer to the ocean……
BIO: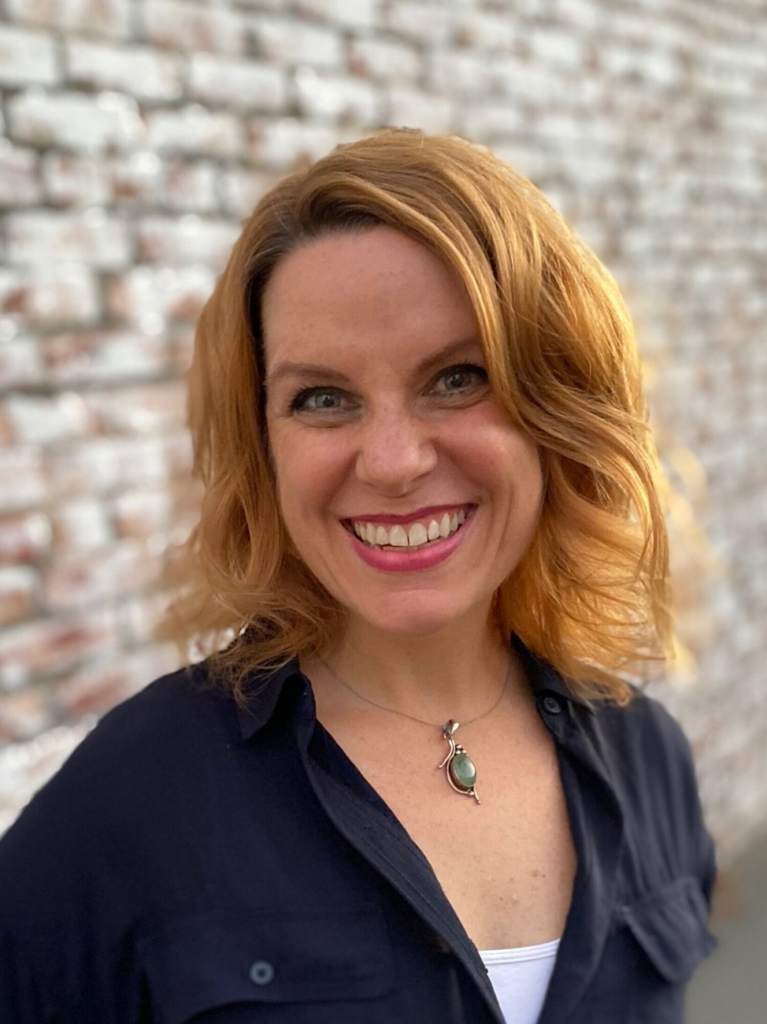 Meg Fleming is an award-winning children's book author, a fan of all dogs and a big-time laugher. Also, a voice teacher, Meg draws on her love of rhythm, rhyme, and lyricism to create and imagine stories.
Meg's books have received starred reviews from Kirkus, Publishers Weekly and School Library Journal, but, most importantly, they are loved by children and dreamers of all ages. She is the author of Here Comes Ocean, Sometimes Rain, Ready, Set, Sail!, Ready, Set, Build! and I Heart You. Meg writes from her home outside of San Francisco with a dog on her feet. Visit her at www.megfleming.net.
GIVEAWAY: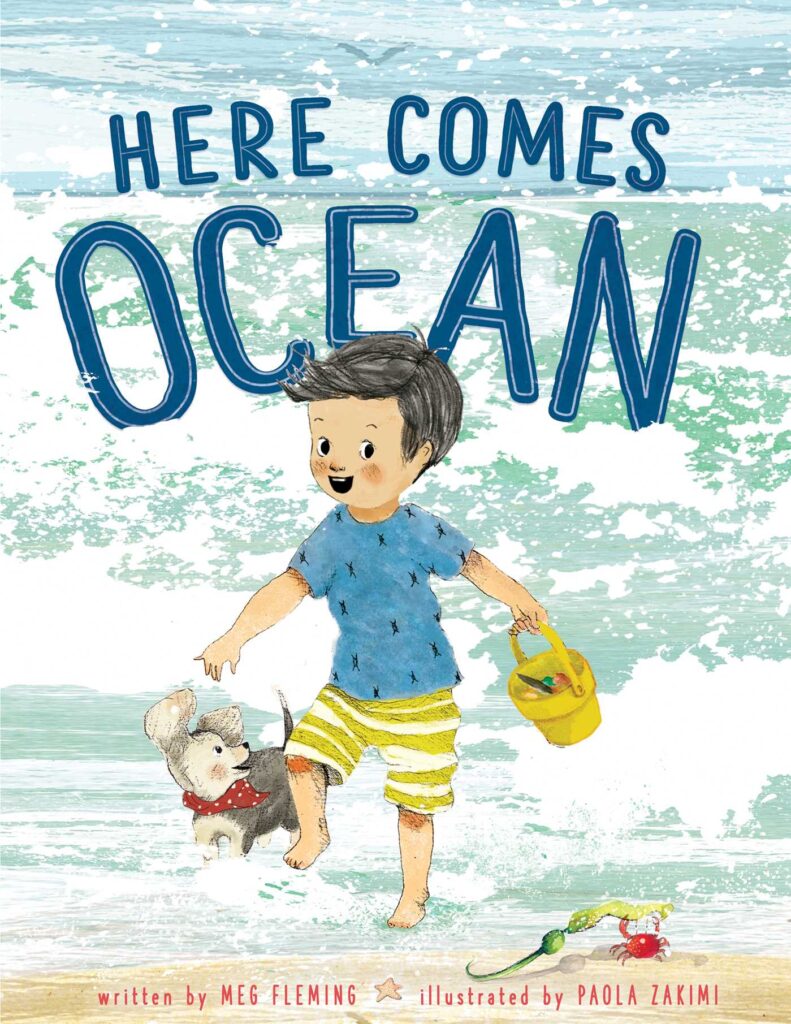 For a chance to win a SIGNED-BY-MEG copy of Here Comes Ocean, leave a comment and/or share this post on Twitter. Please be sure to tag Meg @megosphere and Tammi @SauerTammi. Winner must live in the continental United States.
WINNER: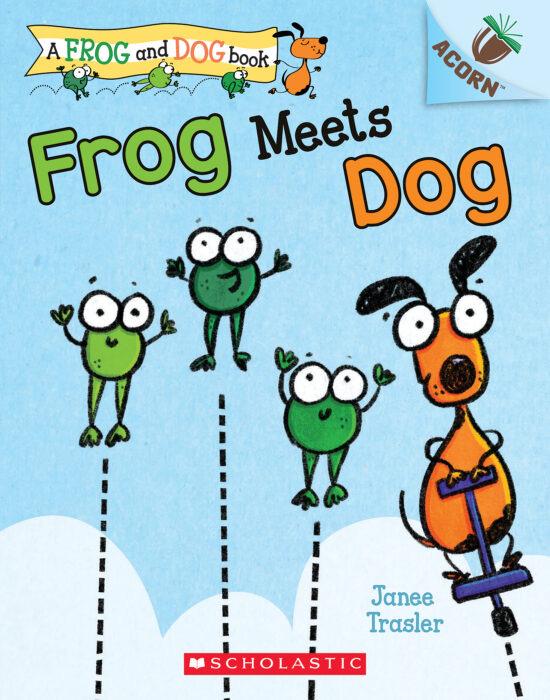 Congratulations, Hillary Craig! You won a copy of Frog Meets Dog!