Many of us are drawn to writing picture books because we want to have a positive impact on kids. Maybe we hope to encourage a sense of empathy, kindness or self-acceptance, or teach them about a person or issue we find important.
But—as my files full of clunky manuscripts attest—good intentions don't always make for good reading. The challenge is how to convey that message or lesson in a way that's kid-friendly and visually appealing.
Take voting, for example. Although typical picture book readers won't be eligible to vote for a good ten years or more, they're not too young to understand basic democratic principles. But can those concepts be conveyed in a way that's simple and engaging?
Well . . . yes!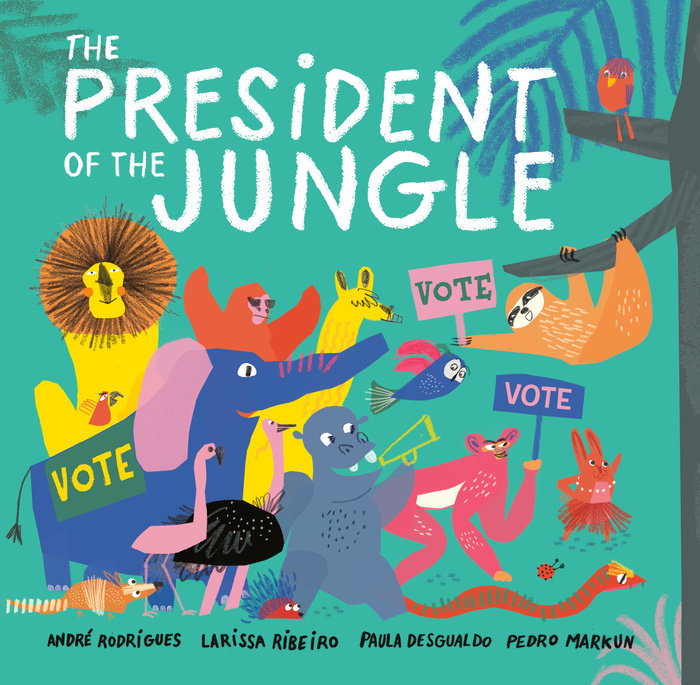 The President of the Jungle (Nancy Paulsen Books, 2020) offers up an easily digestible civics lesson in a bright and appealing package. Created by a four-person team (André Rodrigues, Larissa Ribeiro, Paula Desgualdo and Pedro Markun) and originally published in Brazil, it's educational, entertaining and totally relevant to our current moment.
Here are some of the elements that make it work:
The first line.
On the first page, a furry animal looks down at a winding black stream and asks:
Hey, what happened to our river?
How's that for a perfect opening? It pulls you in, conveys a sense of urgency and makes you want to turn the page.
A clear villain.
Turns out Lion, the King of the Jungle, rerouted the river for his own swimming pool. Kids have an acute sense of fairness. They know that's greedy and selfish and just plain wrong.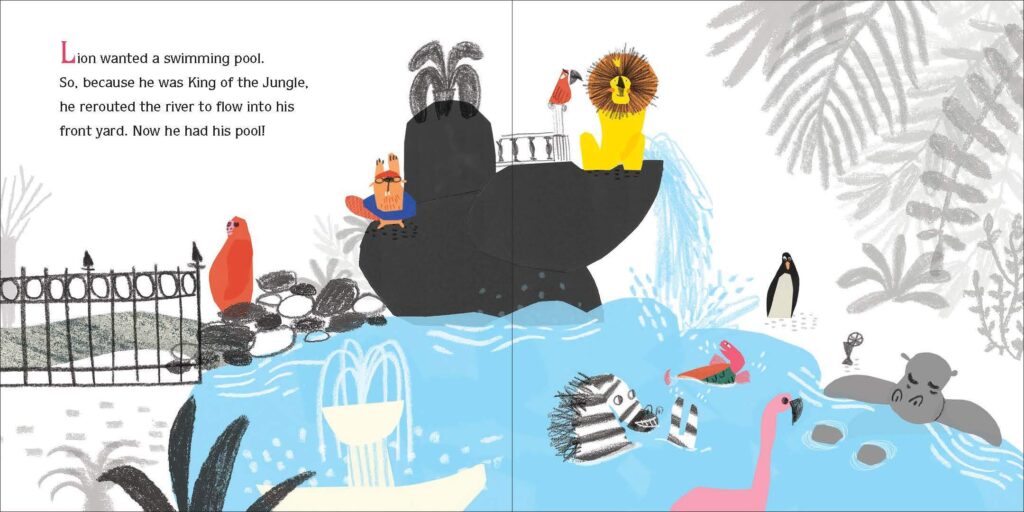 A sticky but solvable problem.
What do the other jungle denizens do about their rerouted river? They complain. They make signs and march in protest. But Lion is unmoved. So they decide to hold an election for a new leader.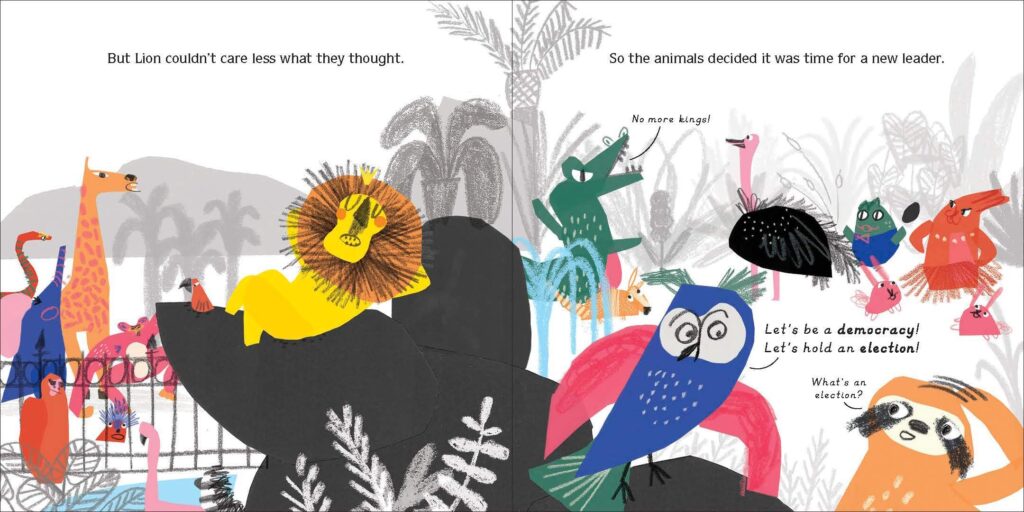 Humor.
To keep things from getting too serious, the creators inject bits of humor throughout. Like, for example, the final Election Rule:
7) Candidates cannot eat their opponents.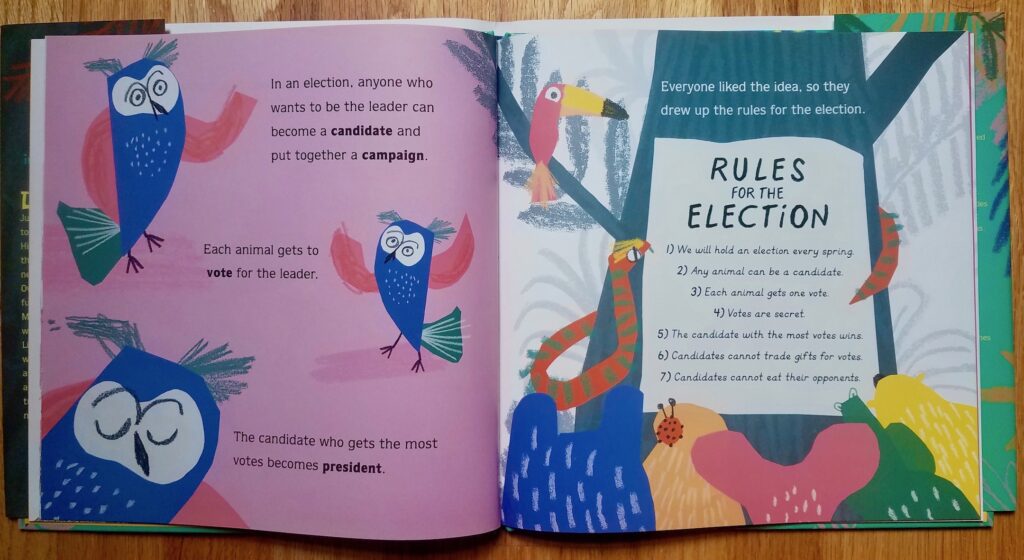 Great design.
Notice how the rules were presented on that page? Nice, huh? That's just one of many design choices that make the book easy to follow, good looking and fun to read. I also like how this spread shows what campaigning is all about: talking, talking and more talking.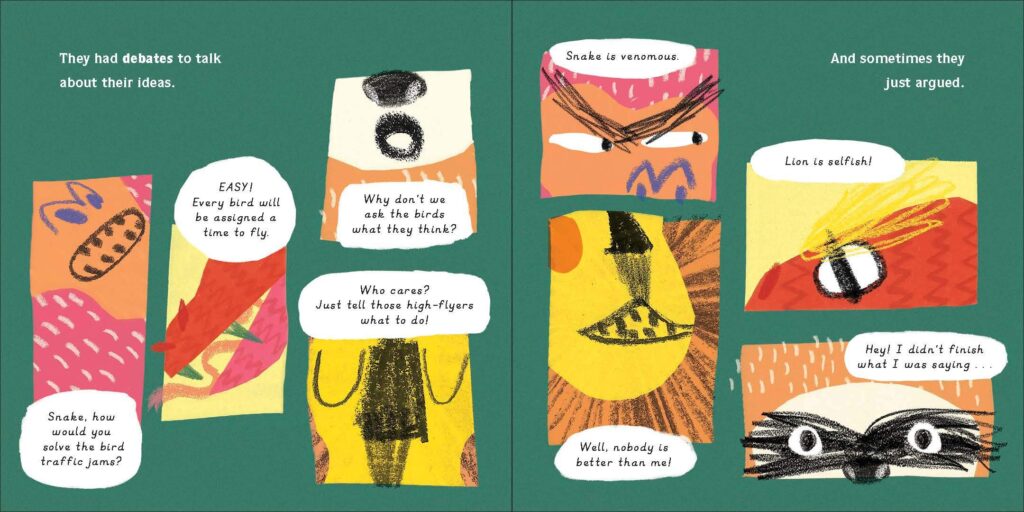 A Glossary.
To keep the text streamlined, election-related terms are written in bold throughout the book (as in the humor spread above) and defined in a handy glossary at the end.
I'm happy to report that the winner of the election (SPOILER ALERT!!) wasn't the flashiest or most aggressive of the contenders. It was Sloth, the one who listened best and promised to work for everyone.
---
Back in 2016, 40% of eligible voters—nearly 100 million people—didn't vote. That's far more people than voted for Clinton (66 million) who, as y'all probably recall, won the popular vote. There are many reasons why people don't vote, of course, and a picture book isn't likely to increase voter turnout on its own. Still, introducing these concepts to young kids—and showing that elections can be a way to discuss and solve problems—seems like a great idea.
---
BOOK GIVEAWAY!!
---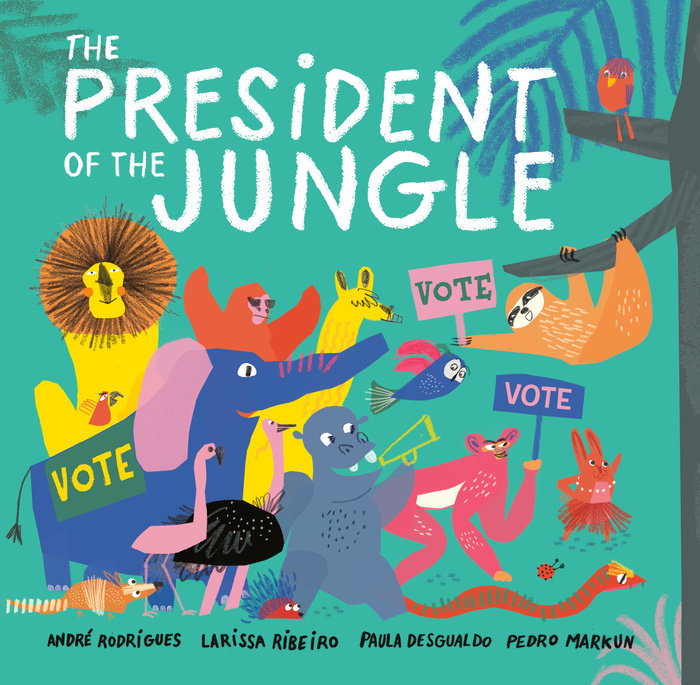 Leave a comment below by this Saturday, October 17th. Double points if you share your voting plan (not the WHO, just the how—e.g., by absentee, early in person, on election day). I'll mail a copy to the winner early next week so you have it well before the election. (Many thanks to Nancy Paulsen Books for the giveaway copy!)
---
By the way, if you don't yet have a plan, or still have questions about where to vote or whether you're registered, check out these voting resources.
As for my voting plan? Here in North Carolina, early voting starts Thursday. My husband and I will be at the polls on Friday to cast our ballots. I can't wait.
Thanks for reading—and voting!!
Linda