From the vibrant, intriguing cover to the lively story, I'm loving CAT LADIES! Author and illustrator Susi Schaefer is here to tell us all about it.
From the book description:
"Princess has four ladies. Some cats say that's too many, but there's no such thing! Taking care of all these ladies can be a lot of work, but Princess doesn't mind. She knows how to keep them happy with grooming, cuddling, and all the treats they want. Princess has everything under control until, one day, a mysterious stray appears. There's a little girl in Princess's favorite napping spot, surrounded by her ladies!"
Let's hear from Susi!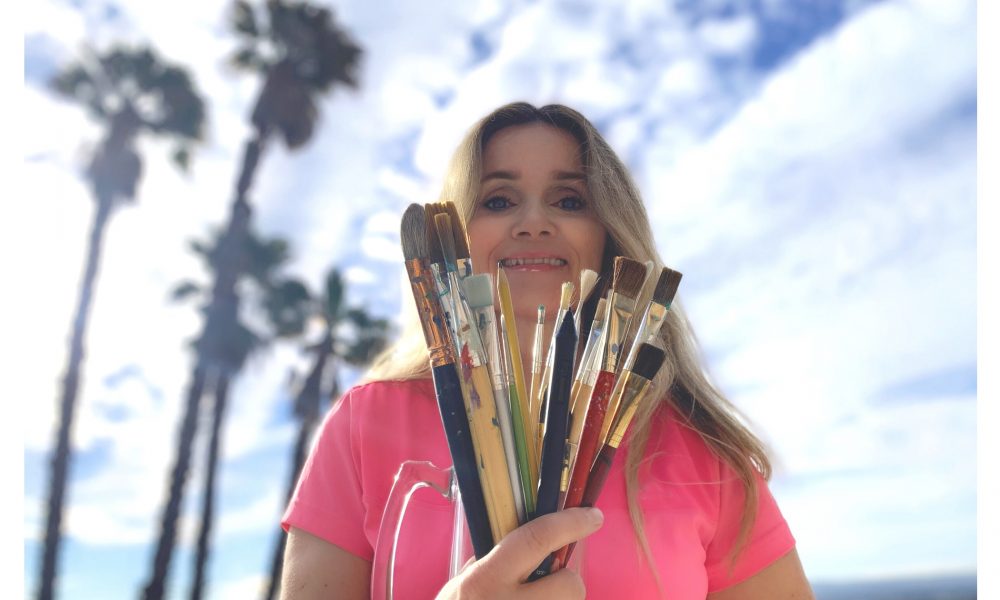 What was your main inspiration for creating CAT LADIES?
Thank you so much for having the ladies and me on the Picture Book Builders blog. I'm a fan 🙂
I'd say that the main spark for this story came after my dad's elderly cousin, Maridl, had to move into a care facility, but she couldn't take her beloved semi-feral cat, Poppele, with her. Thankfully, my dad still brings Maridl to visit her cat and also has taken over all kitty-caring-duties! But I always wondered what it would have been like for Poppele to be the center of attention if she could have come along to the care facility.
Another event that inspired the book was when my Oma Millie brought home a stray cat when I was little. That feline graced us with her presence during one cold Austrian winter and then left as soon as the weather got warmer. Maybe my over-enthusiastic hugs had something to do with her leaving?
And lastly, I spent a lot of time volunteering for a cat rescue alongside my sweet daughter when she was in high school. I came across a vast array of cat personalities and was always amazed by their resilience.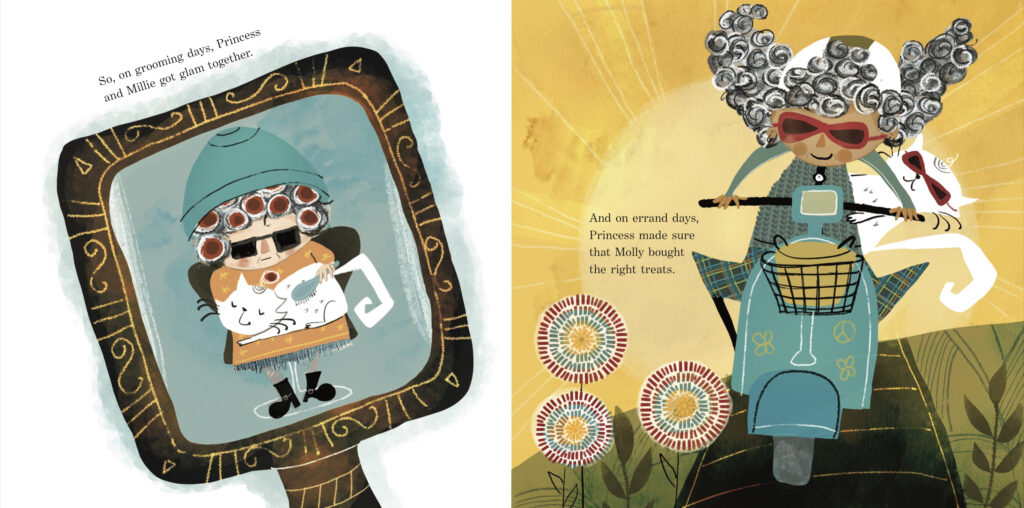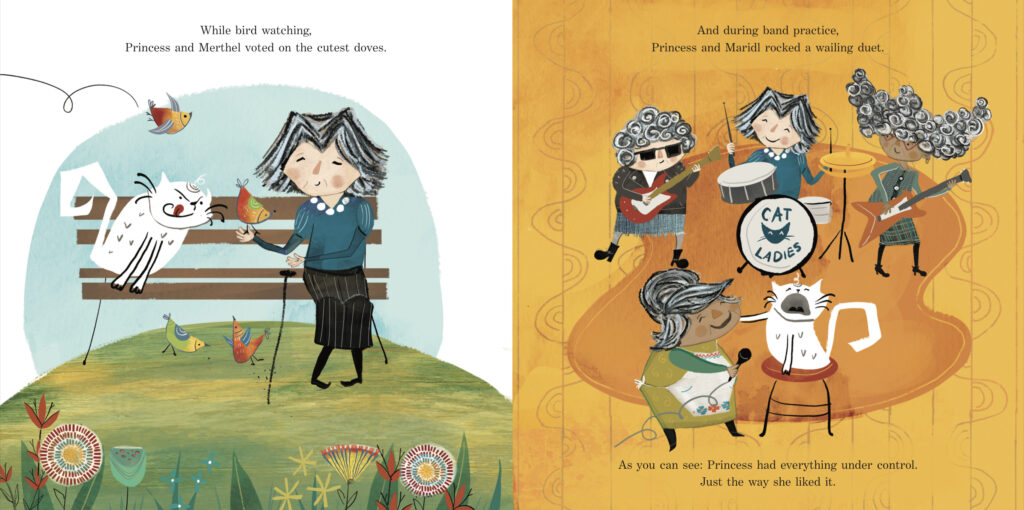 Tell us about your writing and illustration process for CAT LADIES.
At first, there was a lot of back and forth between sketching and writing on my beloved iPad on my even more beloved couch. But the first sentence stayed almost the same from the very beginning, as it was my plan to tell the story from a cat's point of view.
It always takes a while to come up with a color palette, and I also debated between telling the story in the first or third person.
My critique groups played an incredibly important part in developing this story. They really helped me turn the somewhat "blah" characters into awesome ladies I would want to hang out with. Yay for critique groups!
The illustrations were created as digital collages. The hair and textures were a mix of fabrics, photos, watercolor washes, and chalk pastels assembled in Photoshop!
What was it like working with your publishing team?
The team at Abrams was fantastic. My editor pointed out some logistical problems with the story, and we also streamlined some parts together. Initially, the colors were a lot less saturated, but thankfully the art director encouraged me to go for a brighter look. I'm so glad for that since I wanted my characters to come across as bold and energetic. Those collaborations and edits made the book A LOT stronger.
What are your top 3 tips for creating picture books?
1) I have a running list of ideas (however silly) written down in my Notes app. I got into that habit thanks to Tara Lazar and her Storystorm genius! It helps me when I'm feeling stuck or have a lack of inspiration.
2) I don't get too attached to one single idea. There are plenty of reasons I had to put manuscripts on ice in the past. Like they were just not working, the market was off, someone else already wrote that story and they did it (gasp) better than I ever could, and so on…
3) I leave plenty of room for the illustrator, which in my case is yours truly 🙂 For me the words are the framework and the pictures are the clay that I use to shape the story. Both are equally important.
What's new and exciting?
Oooh, I've got some exciting news that I can't share yet!
Also, I was runner-up at the 2020 SoCal SCBWI Writers and Illustrators Day portfolio showcase. It was a good day when I received the happy news. 🙂
I love happy news! Congratulations on all your success, and we'll be watching for what's next!
Visit Susi Schaefer's website and Twitter page.
***GIVEAWAY***
For a chance to win a copy of CAT LADIES, leave a comment by August 18, 2021. I'll announce the randomly selected winner in my next post.
Congrats to Rebecca Hirsch for winning a copy of THE RAMBLE SHAMBLE CHILDREN from my last post!
Thanks for reading & see you next time!