I have an extensive background in graphic design, having had and run a studio for a couple of decades. So, I believe that I have a pretty good understanding of the actual print process and mechanics of designing and sending a book to a printer. All fine and good and valuable knowledge. But that is only a cog in the enormous number of hands and processes it goes through between an author having an idea and a reader holding a book in their hands. I had no idea or hadn't considered A LOT about what is involved.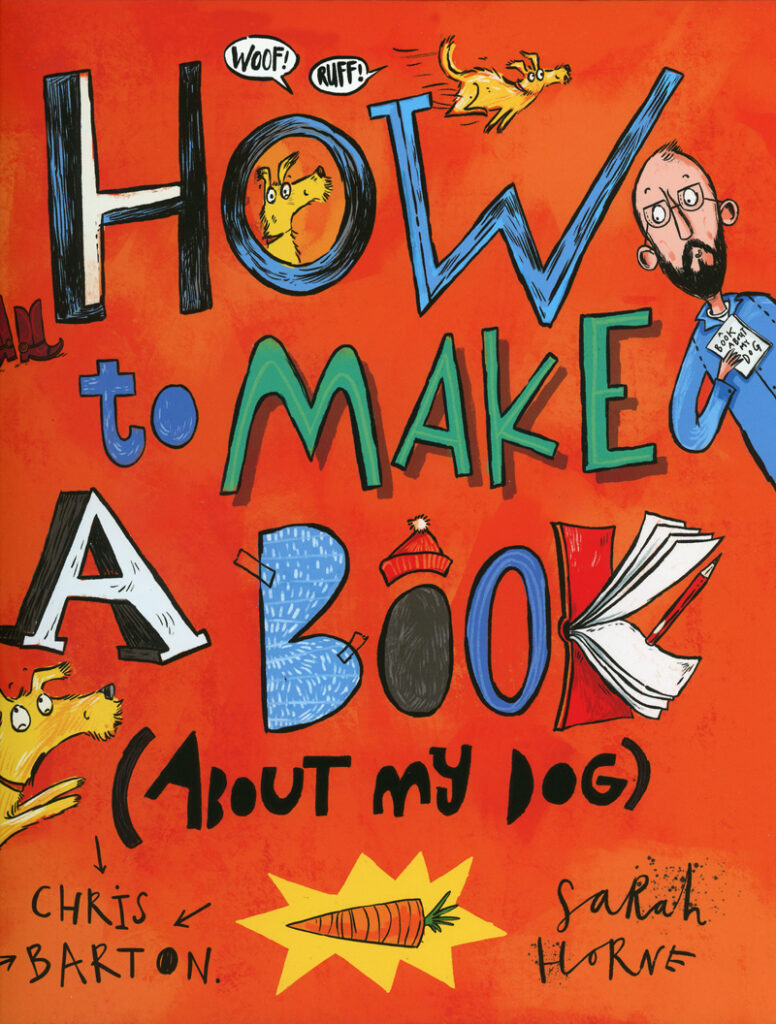 Chris Barton has made it all easier to understand with his new picture book, How to Make a Book (About My Dog), iIllustrated by Sarah Horne. 
Chris does many school visits and is often asked by students (and I imagine the occasional adult) "How do you make your book?" As well as, "Are you ever going to write a book about your dog?"
This book is an exploration of the process of everything that comes after an idea is born and answers both questions in an easy and satisfying way. And with some fun insights into Ernie, Chris' dog, who is the star of the book. I mean costar. Chris is the other costar. The book is written first person with Chris explaining every step along the way. And he is no off-camera narrator, the illustrator has put him in there, in his cowboy boots, often with Ernie, throughout the book.
We learn about how research is done. Where it comes from.
We learn about all the different folks and the roles they play in getting a book out.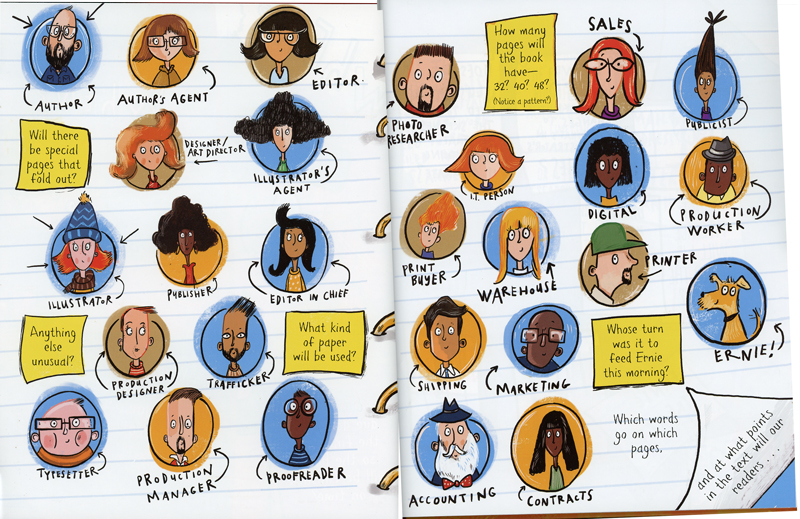 We learn about the decisions that need to be made along the way.
We learn about checking and changing and checking again many times before it is sent to the printer. Not only the words, but the art as well.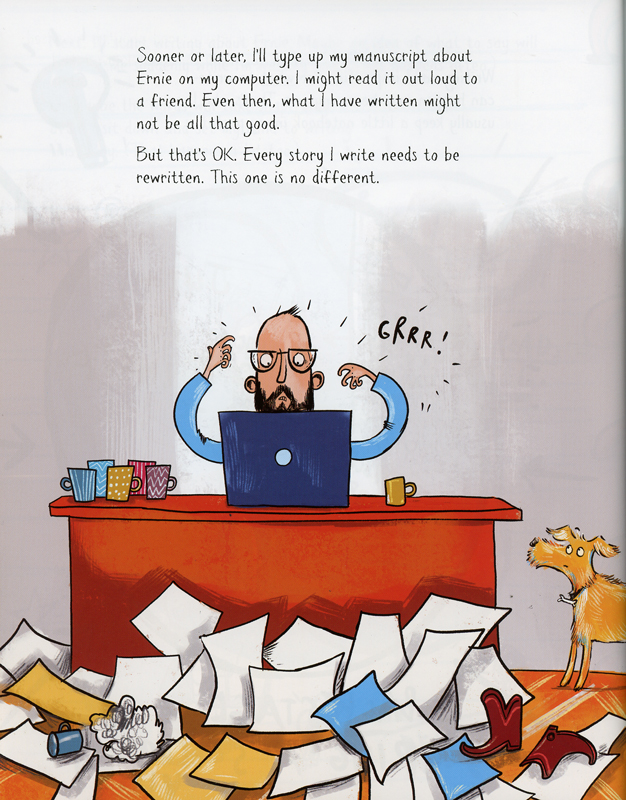 It's an enormous amount of information made succinct and fun.
Oh yeah, we also learn about what species of dogs Ernie is! What a mix!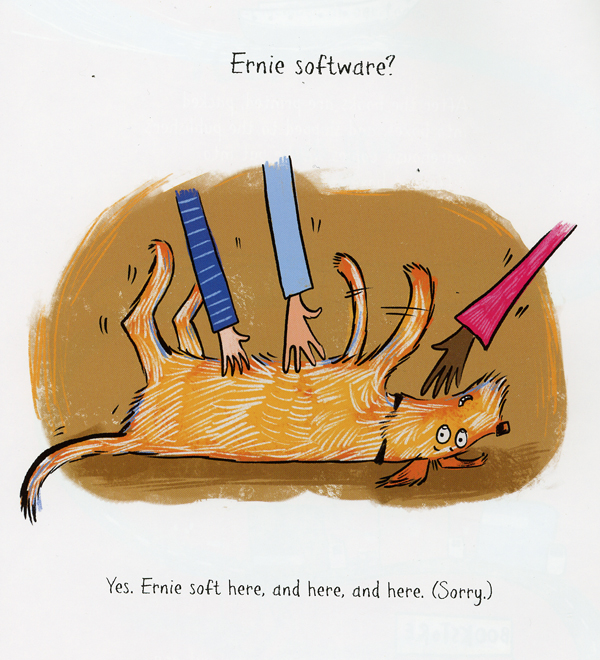 Horne's illustrations are rich and saturated and loose and flowing. Her caricatures of Chris and Ernie—and even herself—are delightful!  (How fun it would be to add myself to one of my books! Ha!)
Some of the illustrations are busy in the best of ways and some are singularly focused.  There are asides in some of the illustrations that weren't in the text that she added and provide extra chuckles. Very fun and engaging art.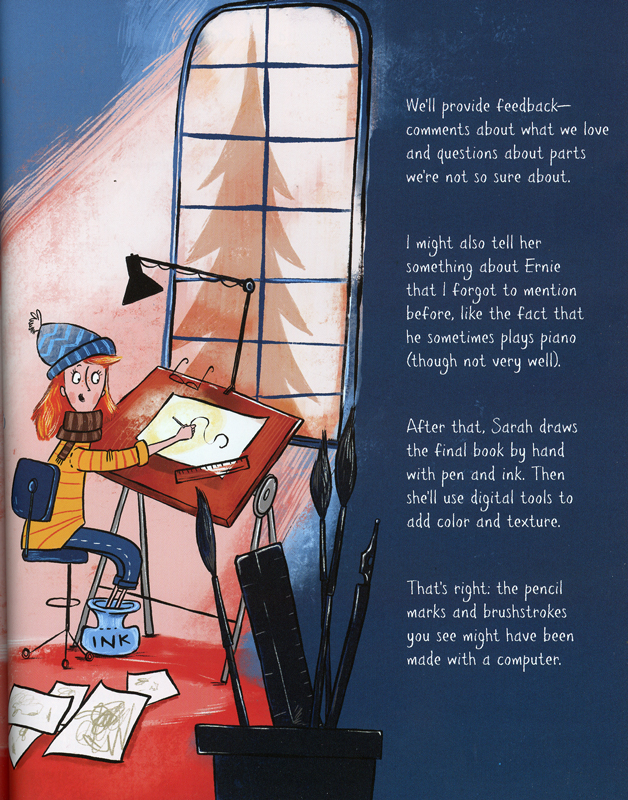 There are also four pages of great back matter that go deeper into the whole process of book making.
Not only is this a fun and informative book for kids, but for everybody in this industry. It is a terrific primer to understanding the multitude of steps and people involved in making a picture book.