Oh, people. I am very excited to give you a behind-the-scenes peek at No Bunnies Here!, a book illustrated by Ross Burach and written by yours truly.
No Bunnies Here! stars a super savvy bunny who tries to save himself and his cotton-tailed pals from a wolf by conning him into thinking they are not bunnies, despite the fact that a.) they are very clearly bunnies and b.) more and more (and more!) bunnies keep showing up. It's a funny-filled, bunny-filled book that will tug on readers' hearts when they least expect it.
Ross was kind enough to join me for an interview, but, first off, I have a confession.
In the beginning, THERE WERE NO BUNNIES.
Originally, this was supposed to be a Thanksgiving book.
The first drafts starred a turkey who was trying to save himself and his turkey pals from becoming the reader's Thanksgiving dinner.
This version was funny, but my smart agent thought it might make some readers feel conflicted about their big turkey dinner.
So I considered another option—chickens—chickens are funny. But I had just sold a chicken book.
Then I thought sheep—sheep are funny. But I had just sold a sheep book.
Then I thought BUNNIES!
Lucky for me, Frances Gilbert at Doubleday Books for Young Readers is pro-bunny, and she said YES. Then we had a Very Important Conversation. It went like this:
Frances: Tammi, do you have an illustrator wish list for this book?
Tammi: YES!!! ROSS BURACH!!!
There are many reasons why I felt Ross would be the perfect fit for this book. These are the top three:
1.) Ross is a genius when it comes to humor. I knew he could make this already funny story EXTRA funny through his art. He is so good at pushing a humorous moment as far as it can go.
2.) His books make readers feel something.
3.) I am a super fan of his book Truck Full of Ducks. I knew Ross would be able to bring forth the individuality, silliness, and personality that he brought to a truck full of ducks into a book full of bunnies.
TS: Ross, welcome to Picture Book Builders! I am OVERJOYED that you agreed to illustrate this book. What was it about this manuscript that made you join Frances and me on this bunny bus of ridiculousness?
RB: First off, Thank you for having me on Picture Book Builders. I was OVERJOYED that you and Frances asked me to hop on the Bunny Bus of Ridiculousness! (which should be my follow up to Truck Full of Ducks.) As an illustrator, when I read a manuscript, I start envisioning the scenes and characters in my mind. Your manuscript had so many silly scenes that allowed themselves for added humor and asides. The text was short, and funny, and had this naturally flowing one-sided dialogue between two great contrasting characters. Right away, the reader is in on the joke. I also love to illustrate books that are written in only dialogue. And since the wolf has no dialogue, a lot of added humor could come from the wolf's expressions, which was a fun challenge. Plus, I got to draw silly bunnies ALL DAY. So that was the icing on the cake. (A carrot cake in this book's case.)
TS: Please share some of the early sketches for this book and tell us a little about your process.
RB: I always try to nail down the look of the main characters first. I do tons of sketches to get the look and feel right. It's usually just a feeling when the character is right. In this case, I needed to create a bunny that was snarky, quick-witted, and confident. But still likeable. And I needed to make a wolf that looked a bit ferocious, but still likeable. After I have the look, I start to do rough storyboard sketches to find the beats and page turns. Then while I was waiting for feedback from you and Frances, I started to develop a color scheme. After I get approval, my final art is a mix of pencil sketches, acrylics, colored pencils, oil pastels, and digital coloring with Adobe Photoshop.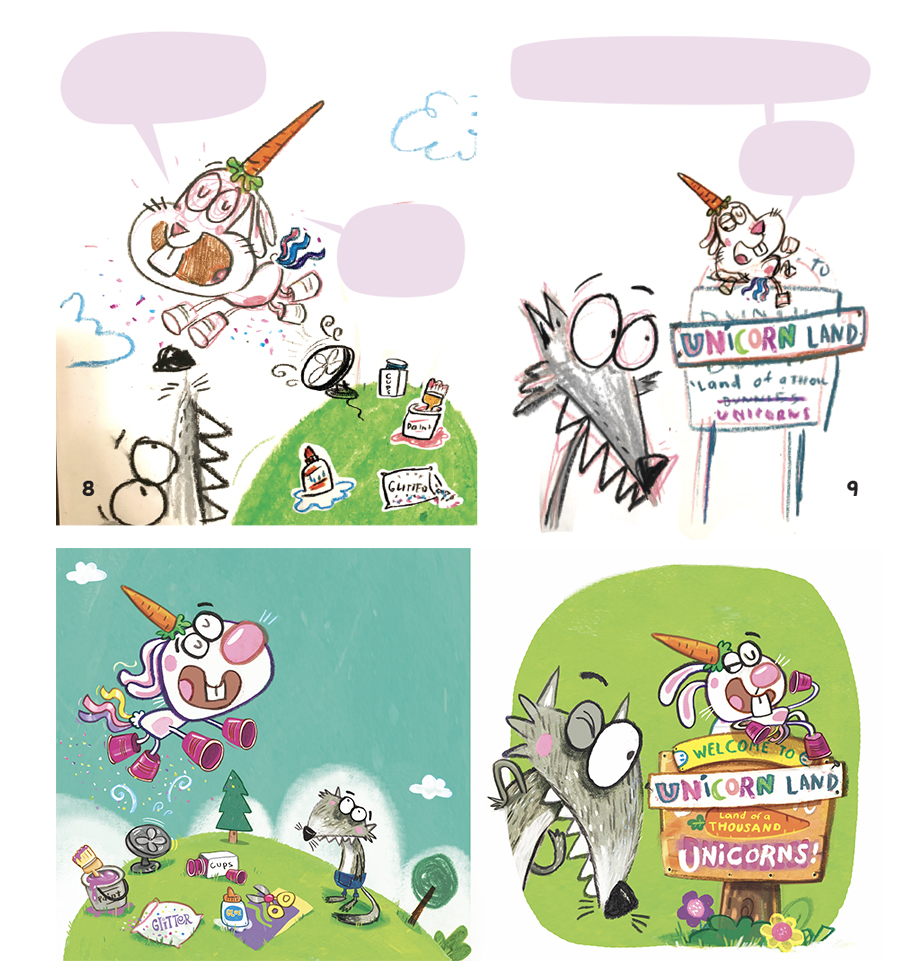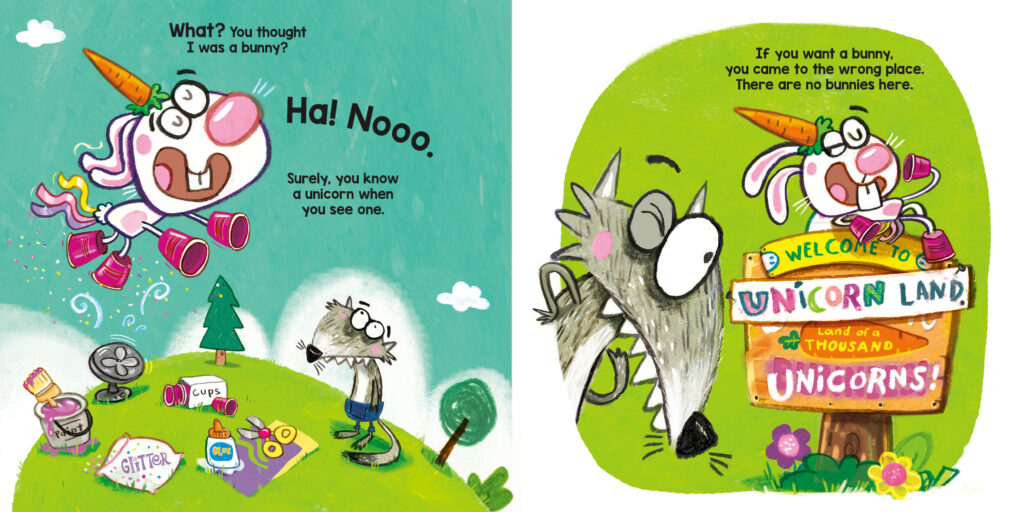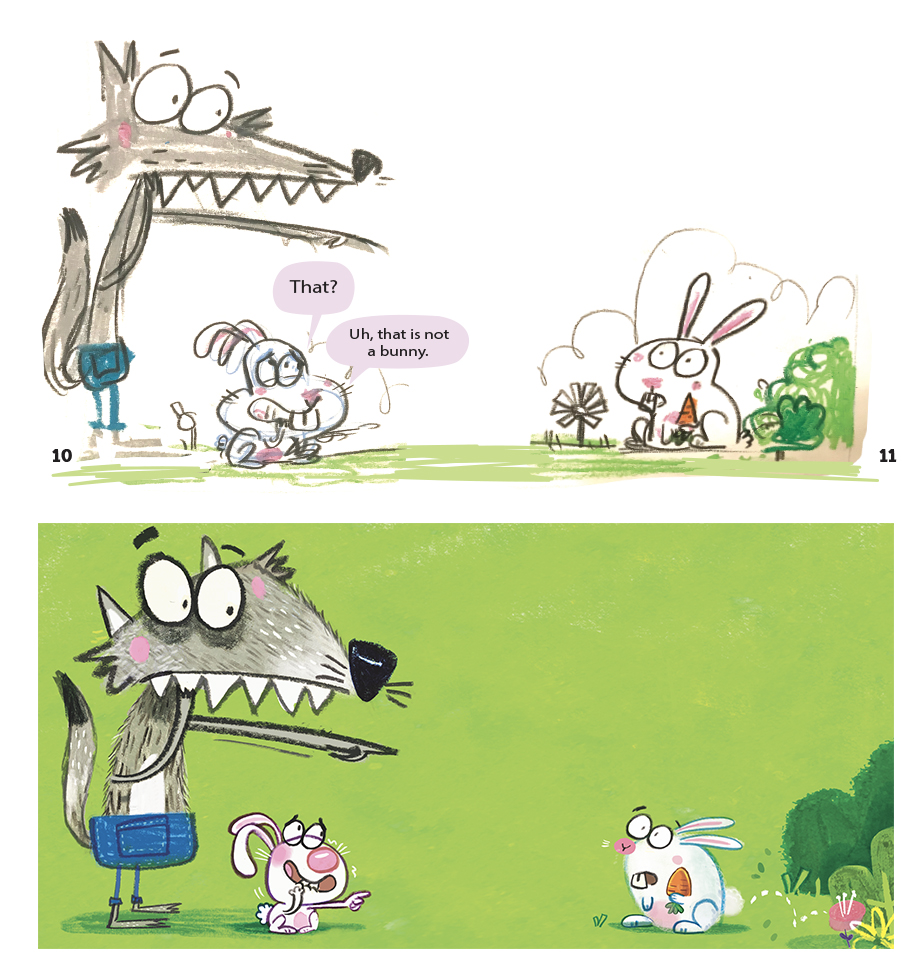 TS: You added so much heart and humor throughout the book, but one spread in particular almost knocked me out of my chair.
All you had to work with was this bit of text:
Oh. You simply like bunnies?
Well!
You believe bunnies are second to none in terms of charm?
Gosh! I quite agree!
And, most importantly?
Go on…!
And you did THIS: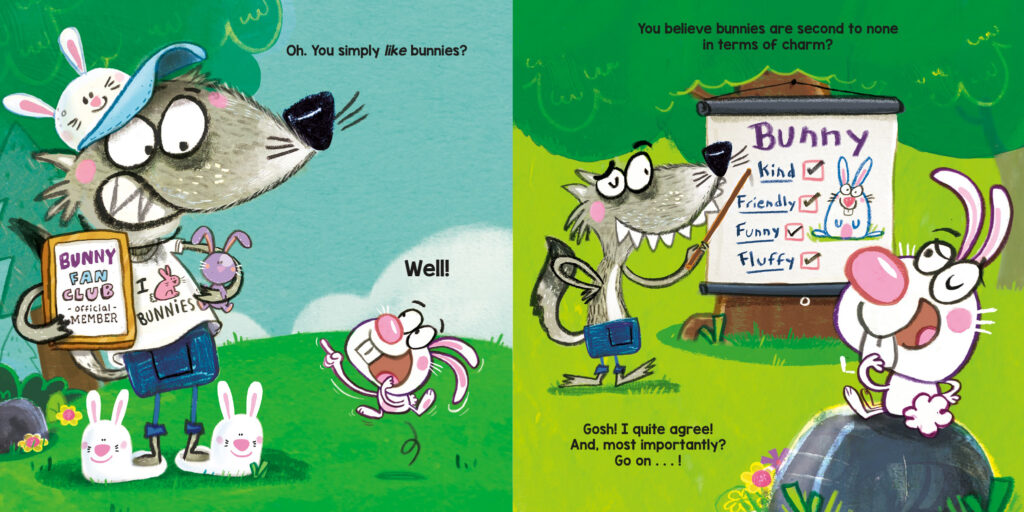 You brought forth so much extra humor through Wolf's expressions and his funny bunny gear. And that chart?! How great is it that you came up with FLUFFY as one Wolf's qualifiers that makes bunnies second to none in terms of charm?? Most, importantly, though, this spread made something clear to the reader–this wolf is endearing.
What went into creating this spread? Basically, explain how your brain works. 🙂
RB: Ha… Sometimes I try not to think too much about how my brain works. But what I imagine happens is, when you develop the characters, and you draw soo many sketches of them, and spend so much of your day working on their story, in this weird way the characters start to become real. So you have this wolf, and you can almost imagine this wolf has been back home in its lair, and has been sad, and finally decided – Today is the day I am going to make friends! And maybe all of that time Wolf had been home, he'd been writing reasons why he really wanted to be friends with bunnies. And maybe Wolf figured, these bunnies are going to be scared, so I should be prepared…and potentially Wolf put together this visual presentation…just in case. And so, that is why Wolf had these charts. And, as you mentioned, Wolf becomes endearing at this point because Wolf is displaying this relatable vulnerable characteristic to the reader. So that is what goes on inside my brain.
The word FLUFFY was probably in my brain because my kids say it twenty times a day to describe cute dogs they see when we're walking outside.
TS: Okay. Knowing this bit of Wolf's backstory makes me love the spread EVEN MORE. What was your favorite part about working on this book?
RB: Without a doubt drawing the Bunny Parade scene. When I saw the note about a parade of bunnies, all of these ideas came to mind. Bunny balloons, carrot cars, a marching band, etc. And in contrast to this energetic, boisterous celebration of endless bunnies, was this poor, singular bunny trying to convince a wolf there were no bunnies. It was just fun to draw.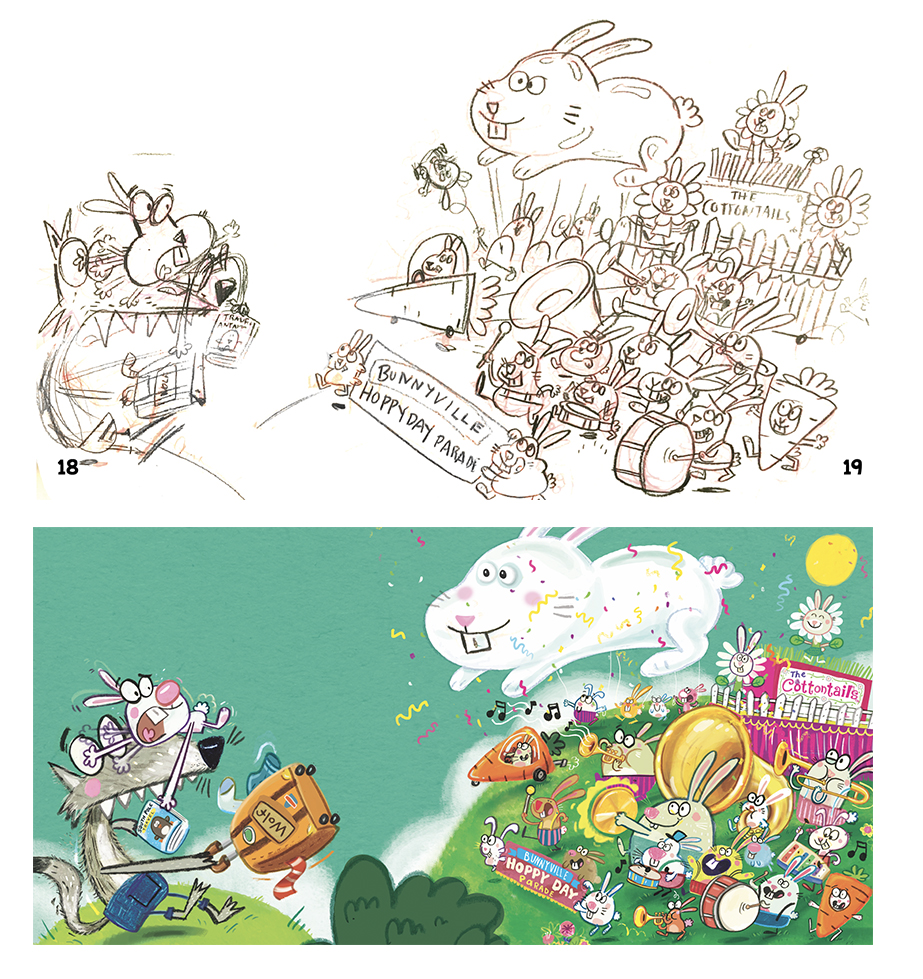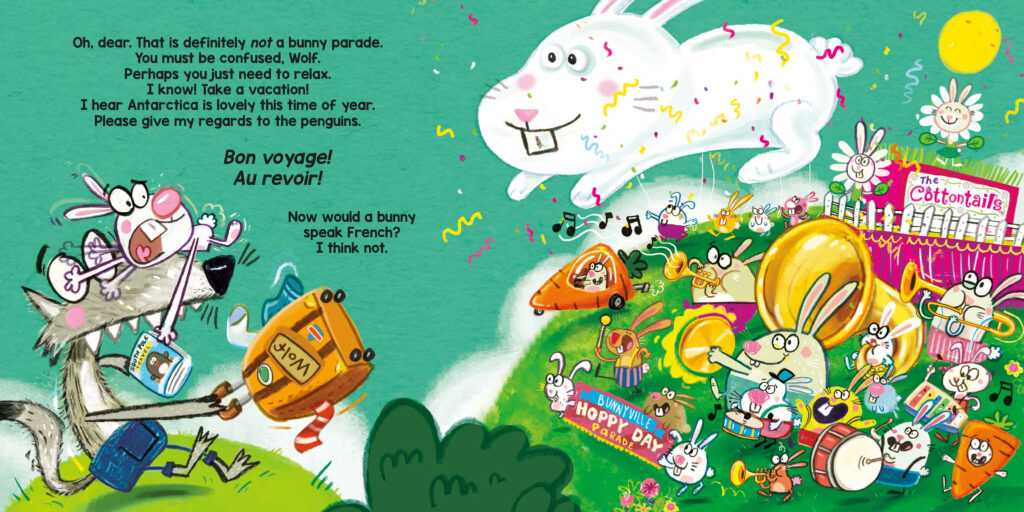 TS: Back in 2016, I interviewed you about your delightful debut book, There's a Giraffe in my Soup. When asked for a key piece of advice for writers and/or illustrators, you mentioned "get organized."
[[Psst. Picture Book Builders Readers, click HERE to read that interview.]]
Please give us another tip.
RB: Wow. I should pay attention to my own advice and get more organized. I would say being able to let go, or take out a specific part of your story that might not be working. I find myself having a lot of trouble letting go of plot points, or jokes that derail the story. A good way to do this is to step away for a while. A few days, or a week or two even, and then revisit it.
TS: Scoop time! What's next for you?
RB: I am currently finishing up the fourth book for Scholastic in my Very Impatient Caterpillar Book Series. And then I have a few other untitled projects in the works.
TS: Looking forward to all of it!
GIVEAWAY:
For a chance to win a copy of No Bunnies Here!, leave a comment on this post. For another chance to win, please share the post on Twitter. Make sure to tag @RBurach and @SauerTammi.
WINNER: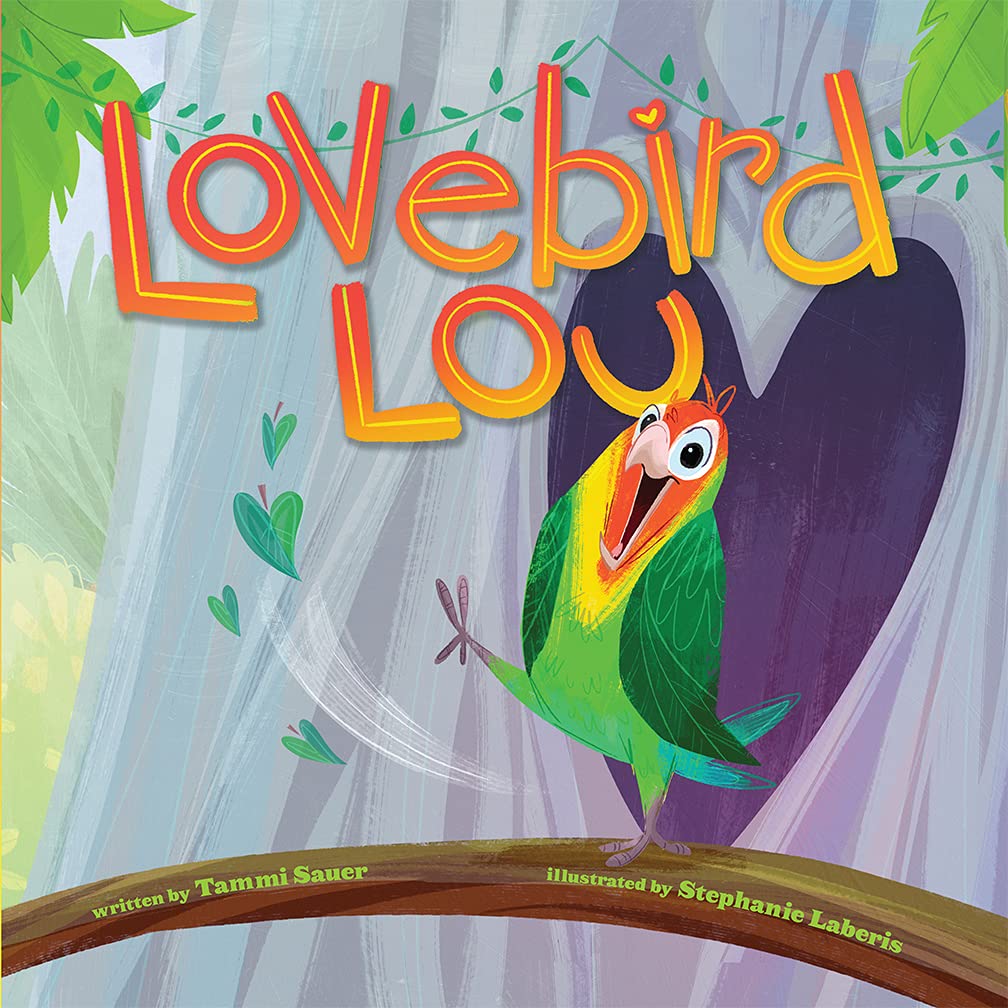 Congratulations to Suzy Leopold! Suzy won a copy of Lovebird Lou.
CELEBRATION:
Special congratulations to our very own Andrea Wang and illustrator Jason Chin for Watercress winning the Caldecott, a Newbery Honor, and the Asian/Pacific American Award for Literature. This book also earned a gorgeous handful of stars.