Hello, all!
Jill very kindly invited me back to share a new book, Wonder Dogs!, and a Q&A with its very talented illustrator, Karen Obuhanych.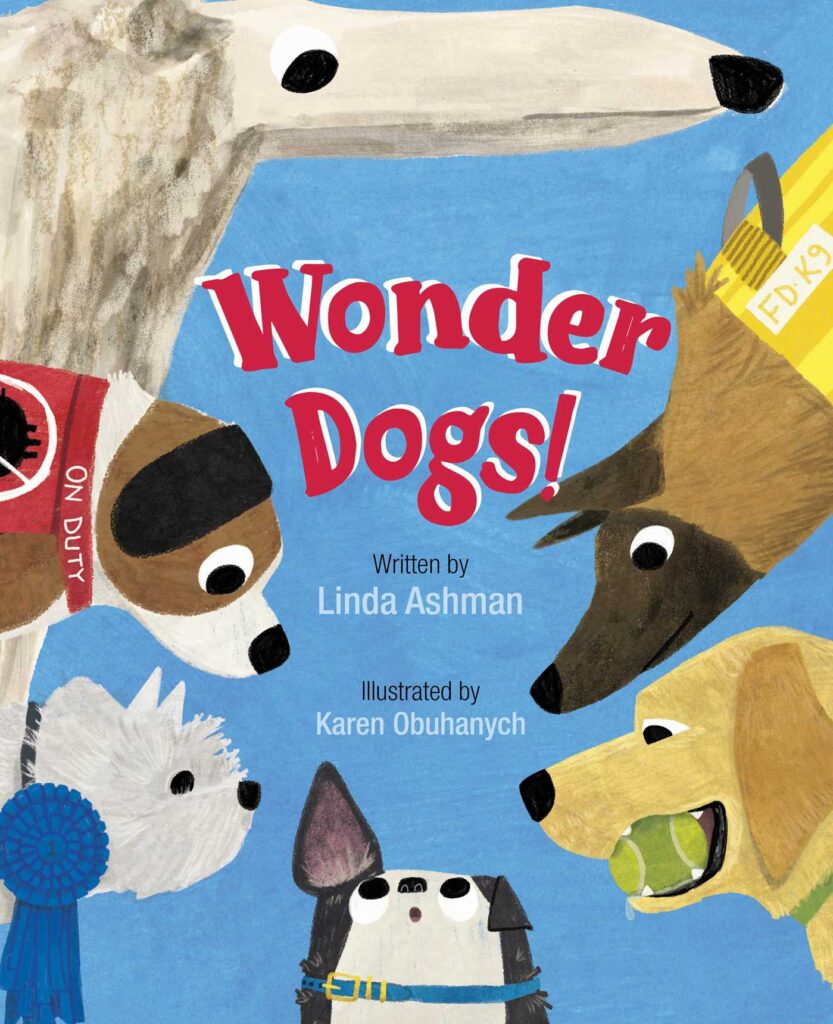 The book, written in the voice of a small rescue mutt, is a celebration of the extraordinary talents of dogs—their agility, sniffing skills, search and rescue abilities, etc.—as well as their more ordinary gifts—detecting crumbs, greeting guests, scaring squirrels and, above all, providing love. Kirkus called it "A sweet treat for dog lovers." Leave a comment below for a chance to win a copy!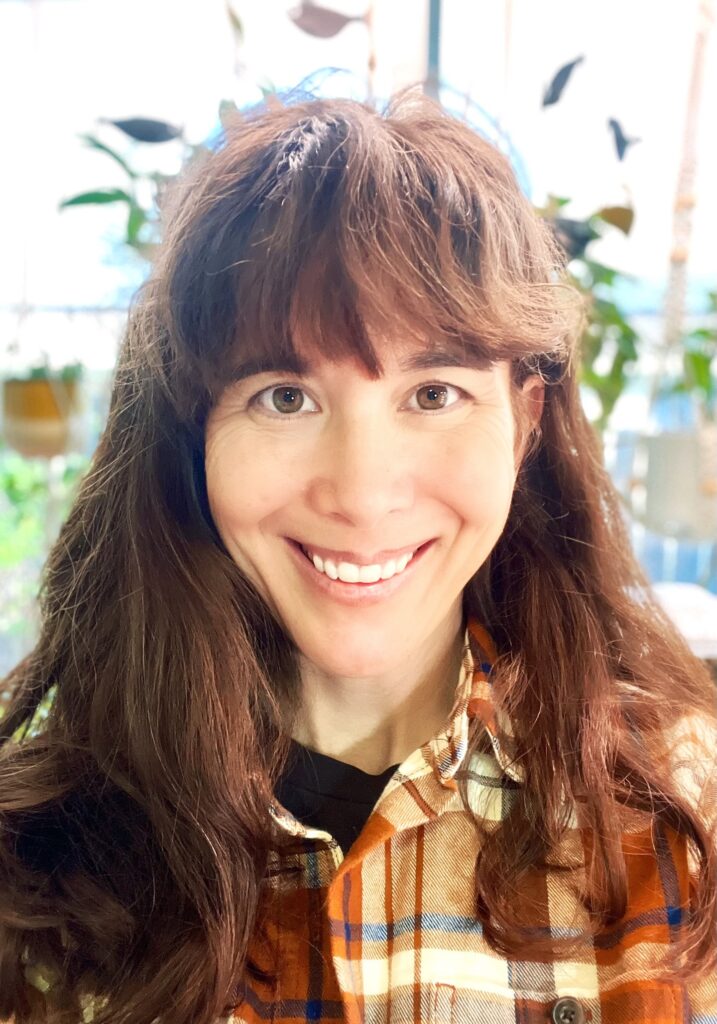 LA: Welcome, Karen! Anyone visiting your website and Instagram will notice lots and lots of . . . CATS!  In fact, you have two new cat-centric books out: This Little Kitty, which you wrote and illustrated, and Annie's Cat is Sad (written by Heather Smith). Clearly, you are a cat person! Did you hesitate before taking on a book featuring so many dogs?
KO: Yes, it is no secret that I love cats A LOT, but I just love animals. I am a dog lover as well! When I was offered Wonder Dogs, I did the opposite of hesitate. I jumped on it because I wanted to show my love of animals other than cats, specifically dogs, so this was a perfect opportunity.
LA: You did such an excellent job of illustrating a wide variety of breeds and capturing essential doggy-ness. Did you do anything special to prepare?
KO: Many of the dogs I included are odes to dogs I know personally. Our childhood dog was a border collie and my family loves westies and bulldogs, so those were obvious choices. I did tape and replay the Westminster Dog Show for references as well. The poofy chic poodle is a nod to the WDS winner from 2020.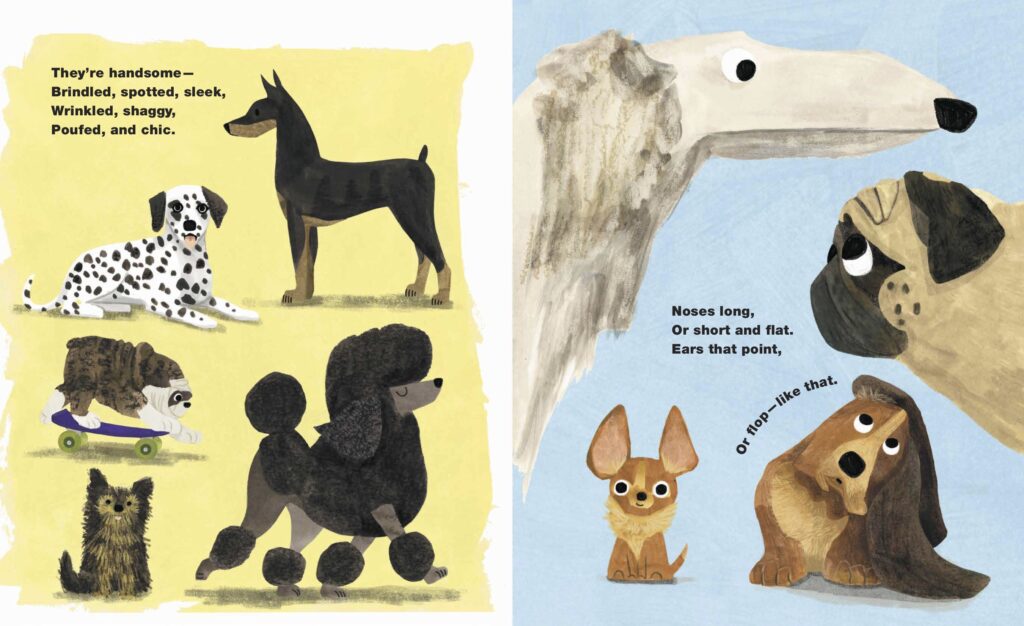 LA: Ah, yes: Siba the Standard Poodle. I definitely see the resemblance! Tell us about the main character, a rescue dog you named Butters, who admires the talents of other pooches but isn't quite as . . . skillful. Was he inspired by a particular pup? (Butters is in the lower left corner of the illustration below.)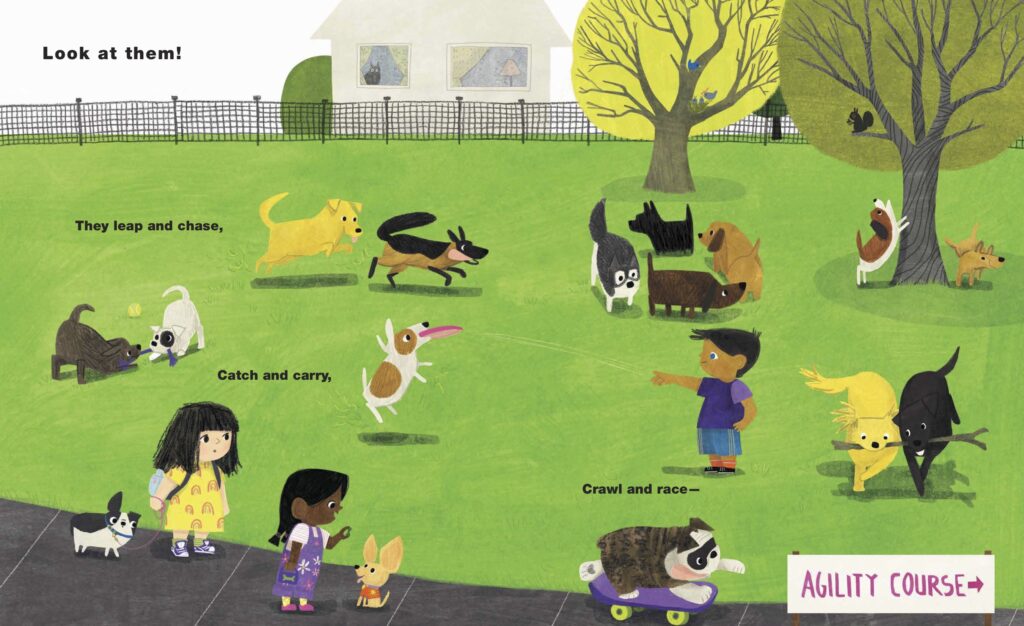 ---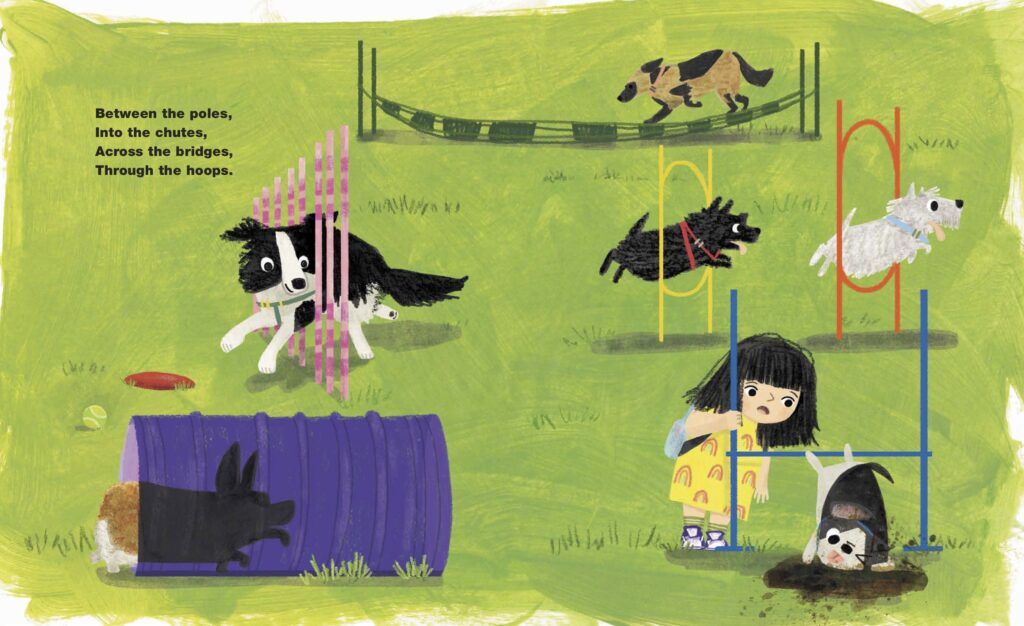 KO: I modeled the main character dog Butters after my dog Uggi whom I had from 7 weeks old. He passed away in 2022 at age 15. During the making of this book, I watched videos of him and studied him as an old loaf dog. He definitely hogged the bed and stood by anyone who was eating.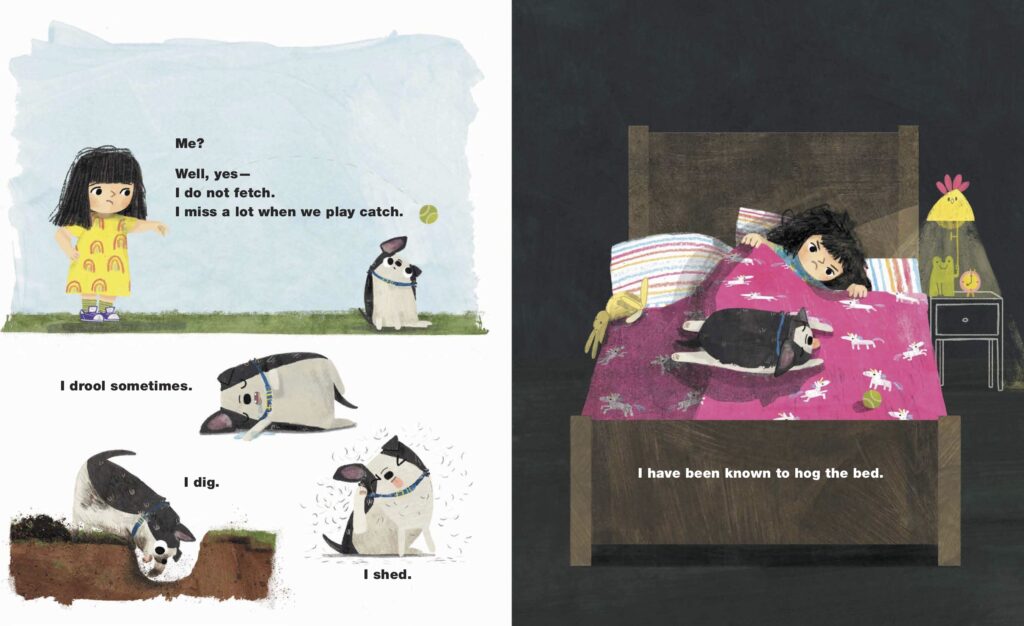 In my sketches, you can see Butters started off looking much more like my real dog with even ears, a defined head and scruffy neck.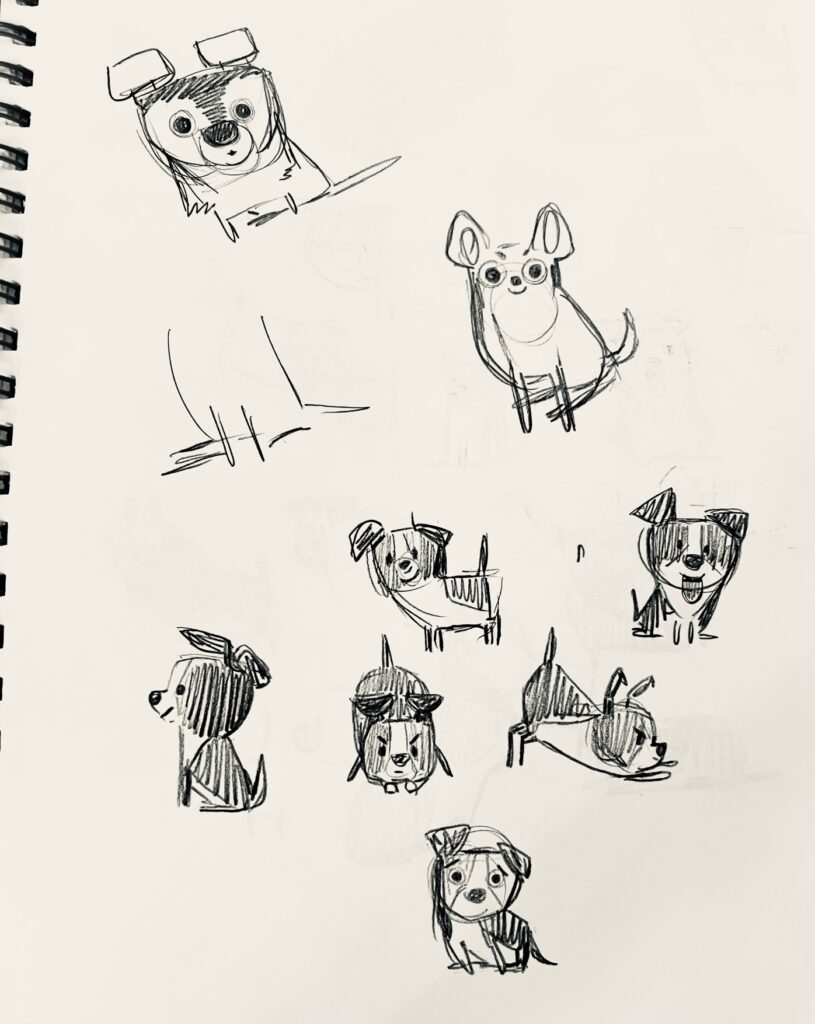 I decided he needed to be more potato dog (like a sack of potatoes) with kapakahi ears (uneven, one up/one down) and Butters was born.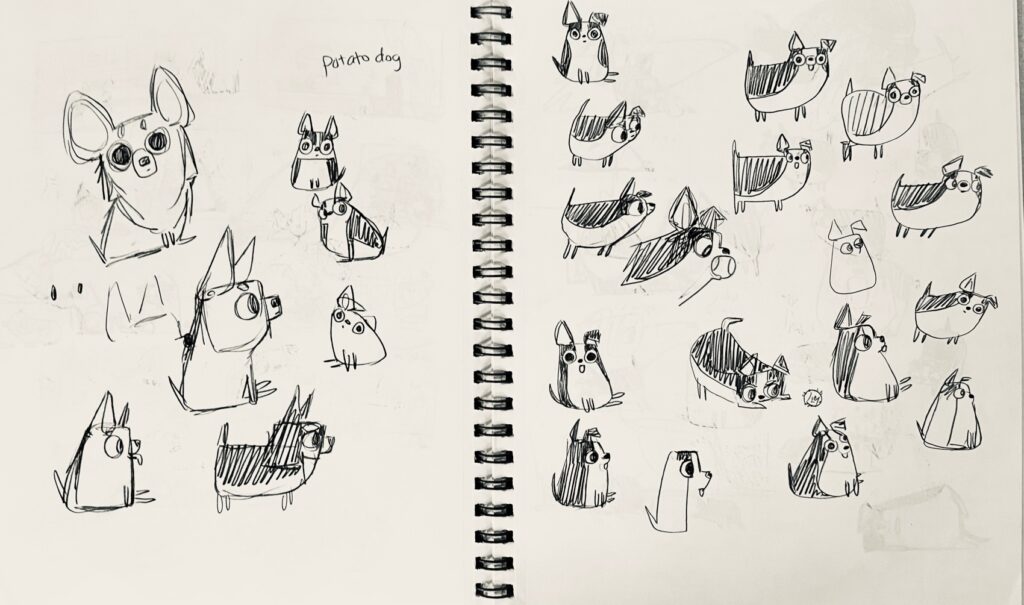 Also, for main characters, I like to make clay models when possible. Here's Butters in 3D (and with blue eyes so I could see the separation of eye from face).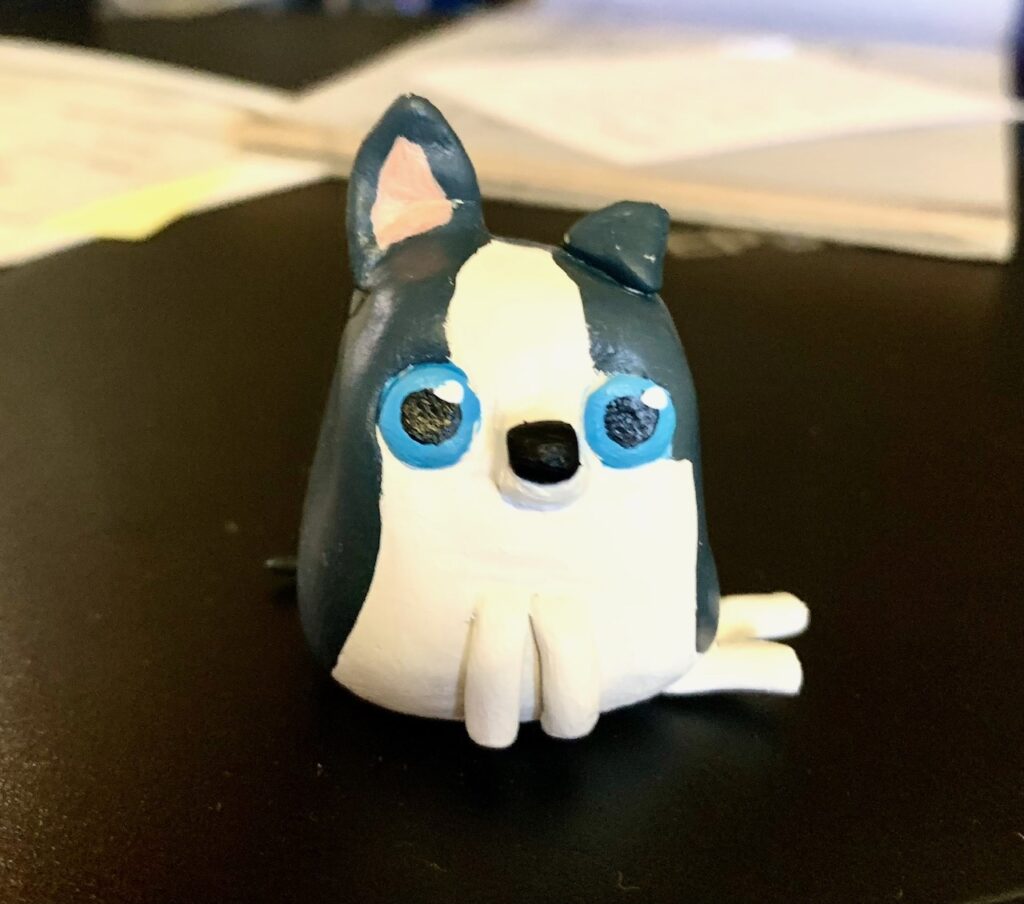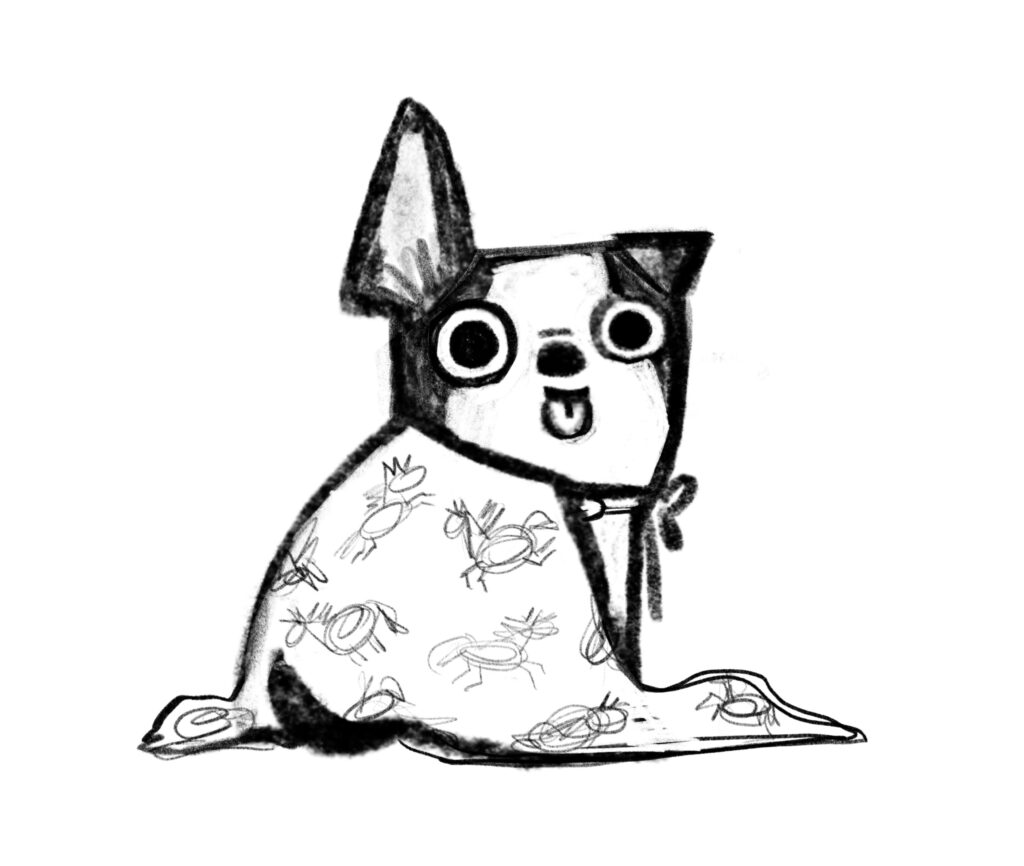 LA: You live on the Big Island of Hawaii. It's late February here on the mainland and many of us are winter-weary. What's it like there right now? And how does your environment affect your work?
KO: I was just visiting the mainland late January and I can sympathize with everyone feeling cold through and through! On Big Island, we have had some winter storms, but they are always warm. If it is below 70°, it's bundle up time! Most days, if we are staying inside the house, it's bc it's too hot outside. But we do get snow on top of the volcanoes. This photo of snowcapped Mauna Kea was taken by my photographer friend, Sara Marie Linton.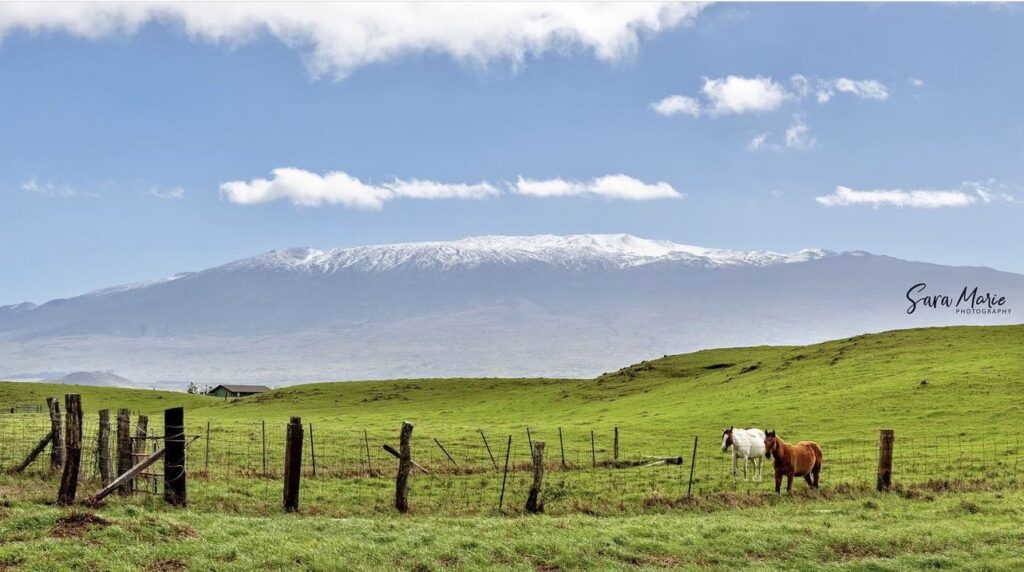 All my artwork is influenced by my life, my experiences and my home. I can only pull from what I know, so it is very personal. I consciously keep a memory bank and constantly write notes or scribble drawings when I see something IRL that could be useful in illustrations.
LA: We love getting a glimpse of working spaces. Can you share a photo or two?
KO: My studio is part of our home and therefore is always filled with wips, pets and toys. The mess builds up as I work on a book. By the time I'm finished with the book, it's time for a spring cleaning. Here's what my studio looked like after I completed the latest book.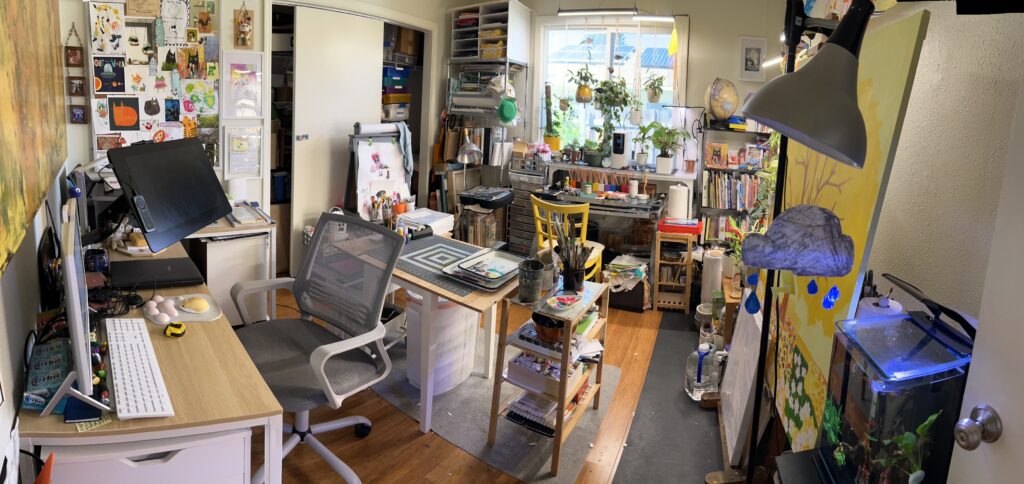 My current studio pets are my calico beast Crackers and regal mermaid betta Triton.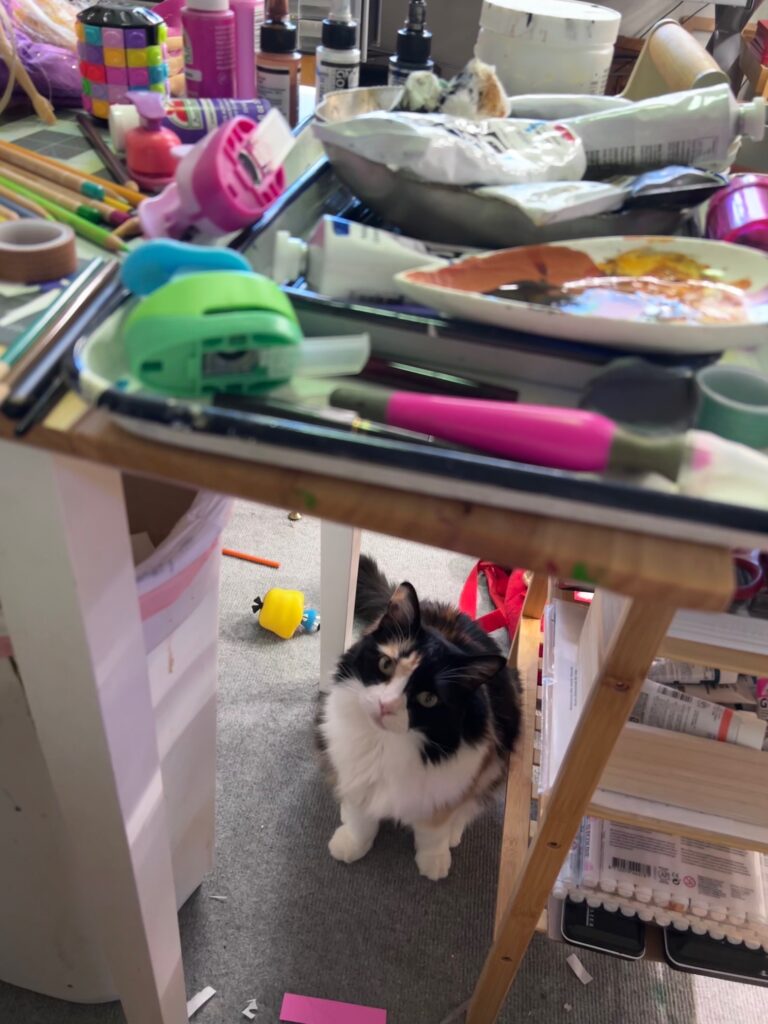 My artwork is mostly done by hand now and then finished minimally in photoshop. For Wonder Dogs, I did a lot more digital. The artwork is many separate paint layers and elements that I scanned and pasted into photoshop. Wonder Dogs! illustrations are all acrylic paint on paper, color pencils and charcoal, and also cut paper collage elements.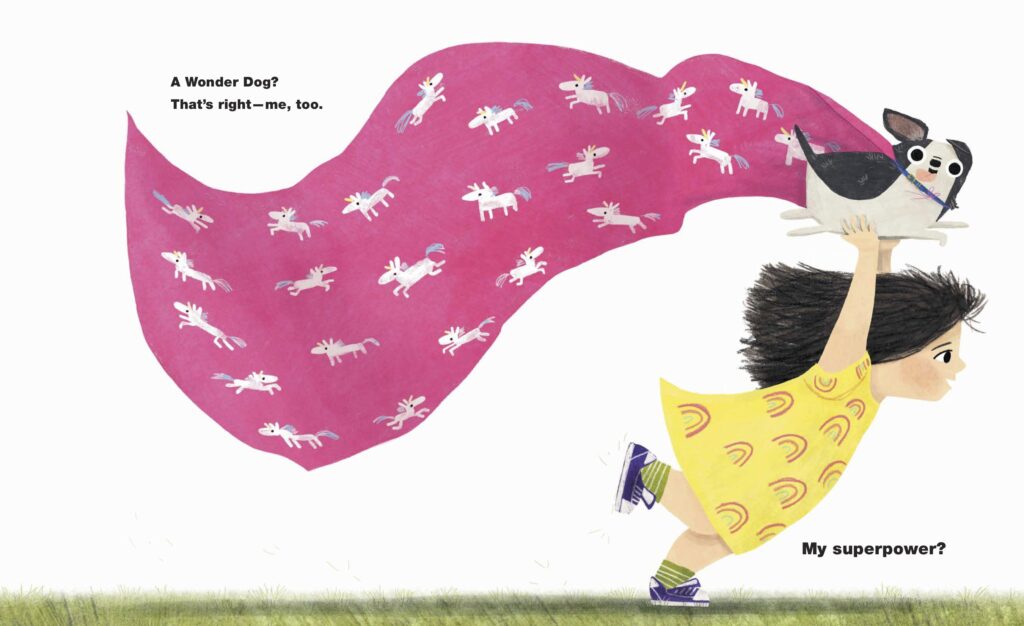 LA: Thanks for the peek into your studio! Any new projects you'd like to tell us about?
KO: Yes! I have been busy these past few years and all the books are releasing 2023/2024. As you mentioned earlier, I just released my debut author/illustrator book This Little Kitty in January 2023 and the follow up sequel will be out next January 2024 with loads of plants (my other love). In April 2023, The Fastest Tortoise in Town will be released. It is a prequel-ish story about a little tortoise and overcoming anxiety/fear with the help of her best friend. In May 2023, Invader from Mars: The Truth About Babies will publish. It is a very humorous take on a boy's reaction to becoming big brother to a precious baby sister. Currently, I am finishing up work on Do Mommies Ever Sleep? which tackles the title question posed by a wise-beyond-years baby. Do Mommies Ever Sleep? will release in Spring 2024.
LA: Congratulations on all the new books, Karen—that's exciting! We look forward to reading them. And thanks so much for stopping by to chat!
And here's my own sweet wonder dog, Sammy, who spent her days on the couch in my office, mostly sleeping, but occasionally suggesting story ideas like this one. She died almost two years ago. I miss her every day.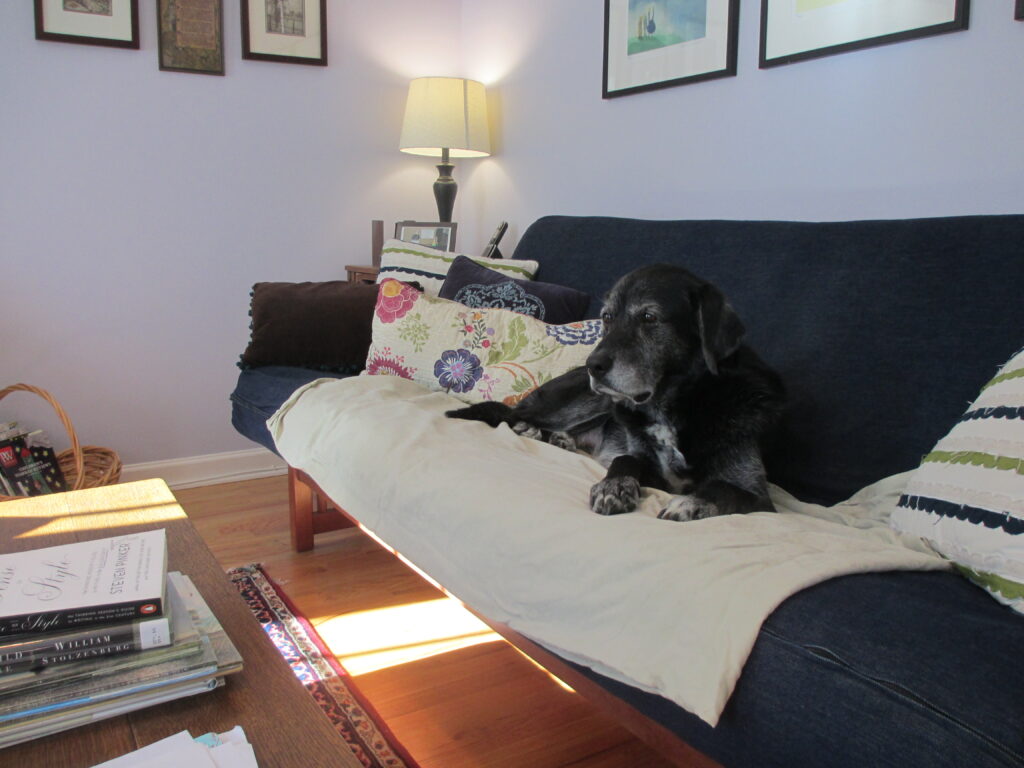 ---
Thanks for having me back, PBBers! Always great spending time here!
Linda
---
GIVEAWAY! For a chance to win a signed (by me) copy of Wonder Dogs!, just leave a comment below.