For the past week, one picture book has been on my mind a lot. Love in the Library, by Maggie Tokuda-Hall and illustrated by Yas Imamura, was published in February 2022. It received multiple starred reviews and I added it to my extensive TBR list. There it stayed until last week when a friend shared a link to Maggie's blog post, entitled "Scholastic, and a Faustian Bargain." Maybe you've already read it — if not, I urge you to go and read her post now.
After reading Maggie's blog post, I immediately looked for the book on my local library's website and was able to borrow a digital copy. I also ordered a copy for myself, but I couldn't wait for it to arrive to read it. And after reading it, I was sorry I hadn't read it earlier, because it's beautiful and brutal, heartwarming and heartbreaking at the same time. The book begins in medias res, or in the midst of things, with Tama going to her job at the library. Only, it's no ordinary library. It's the library at Minidoka, a Japanese incarceration camp in Idaho.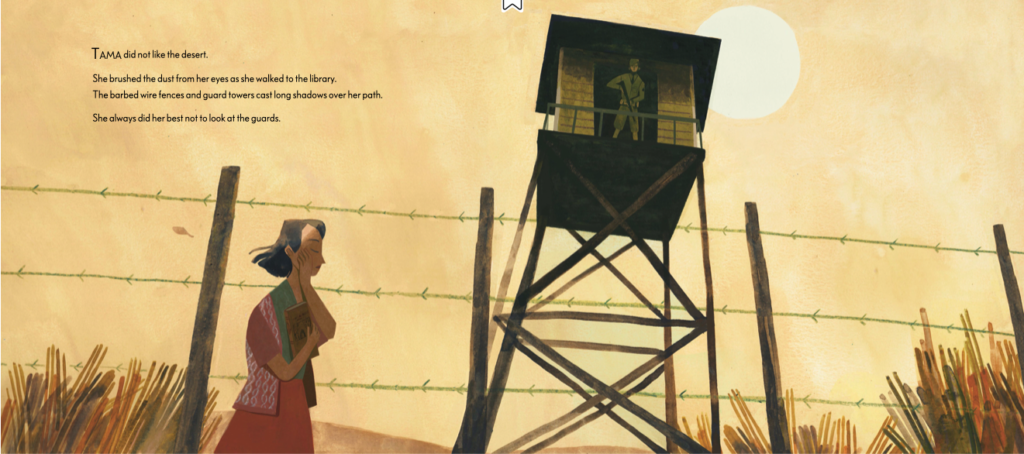 Right away, I want to know more about Tama. And that is one of the things starting in medias res can do for a story — make the reader wonder, how did that character get here? And that allows the author to use devices like flashbacks to fill in the character's backstory. A few pages into the book, there's just such a flashback: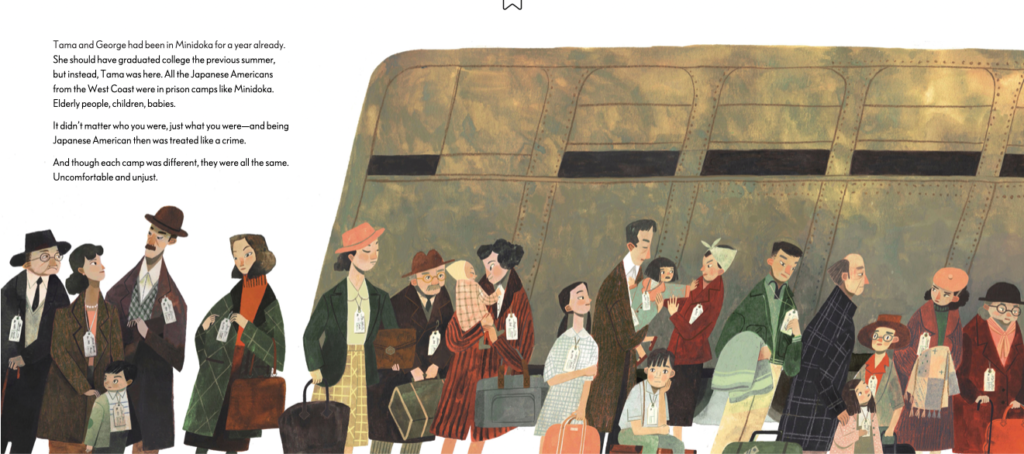 The above spread shows how Tama, a young man named George, and other Japanese Americans ended up in Minidoka, victims of racial injustice. Despite the harsh conditions and uncertain future, Tama makes the most of her days, helping people in the library and trying to occupy herself with things to take her mind off of the life she'd been forced to leave behind. One of those things is escaping into the stories she reads. Books, as you and I know, are a lifeline.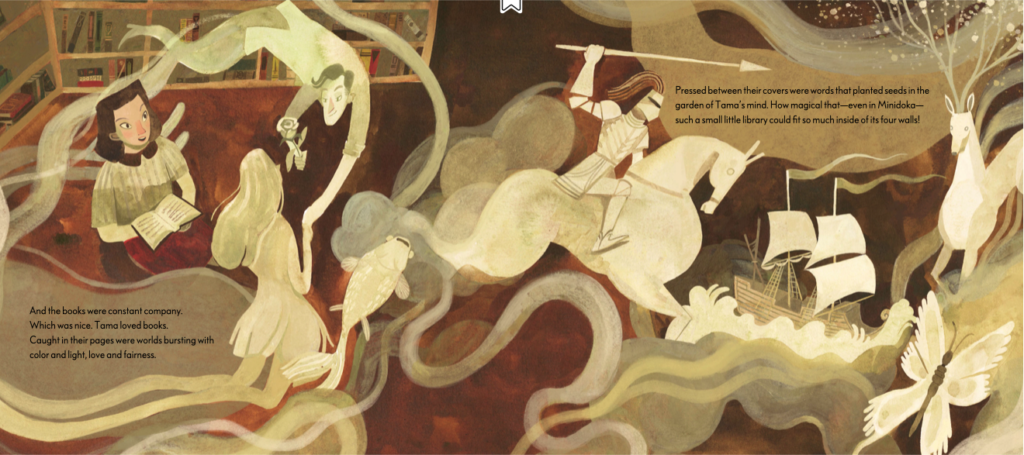 I loved the line, "Pressed between their covers were words that planted seeds in the garden of Tama's mind." Maggie builds on the theme of words by having Tama use particular ones– "constant" to describe her life in the camp, "miraculous" for the worlds contained in the books in the library. And when Tama cannot find the right word to describe the multitude of emotions she feels about her situation, George offers the word "human." It's a reminder to the readers, too, of the humanity of the imprisoned.
As the title promises, love blooms and Tama and George get married. Maggie writes in the text, "To fall in love is already a gift. But to fall in love in a place like Minidoka, a place built to make people feel like they weren't human–that was miraculous."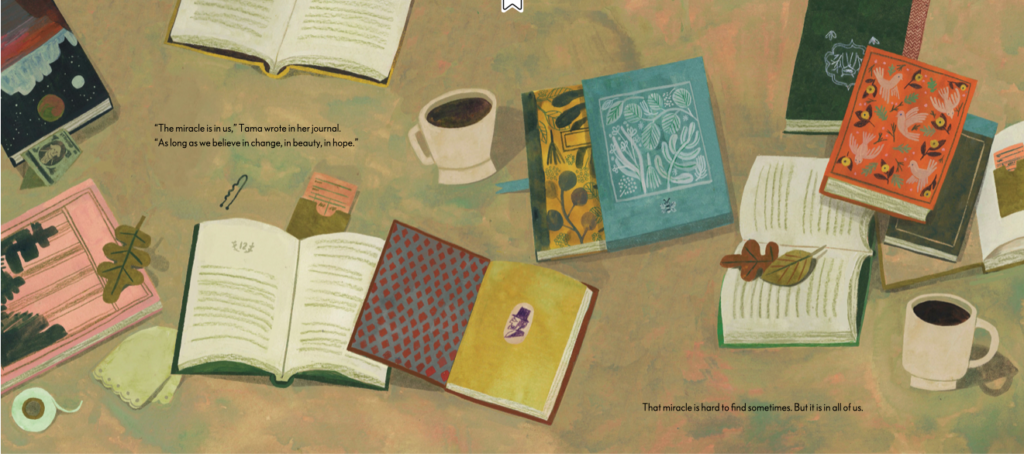 It's impossible for me to fathom how Scholastic could take a book that exhorts us to "…believe in change, in beauty, in hope" and then request edits to Maggie's author's note which crushes that belief by erasing her voice (see the edits on Maggie's blog post, linked in the first paragraph). Following the outcry on social media, Scholastic has made two statements of apology, here and here. They state that they stand against censorship and are committed to sharing stories from marginalized communities. They state their intent to review their AANHPI book collection and their curation process. I will be watching their next steps closely, and I hope you will, too.
Here is Maggie's timely and important author's note in its entirety: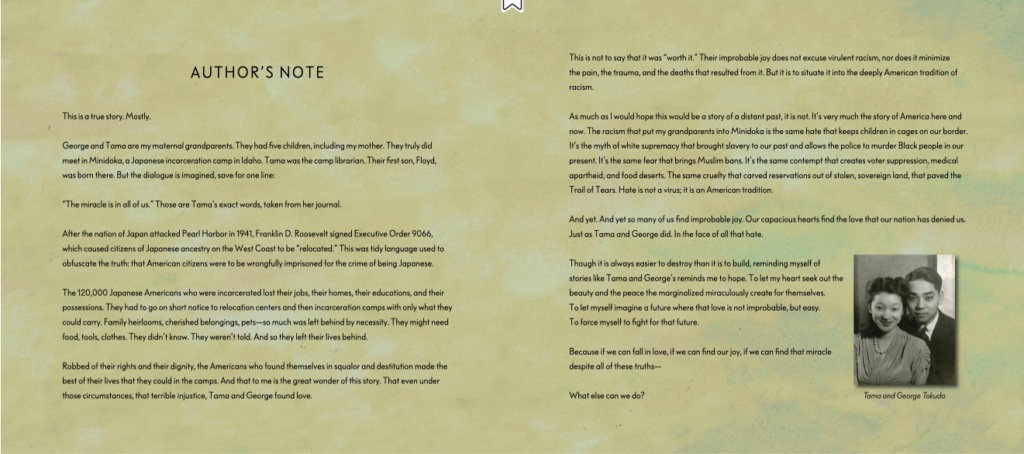 I can't tell you how much I admire Maggie and Yas's work, their advocacy, and their bravery in speaking up. And to answer the question at the end of her Author's Note, "What else can we do?" — one small thing we can do is support them. Maggie's website has buy links for Love in the Library and her other books, and you can find out more about illustrator Yas Imamura through her Linktree as well as purchase her artwork.