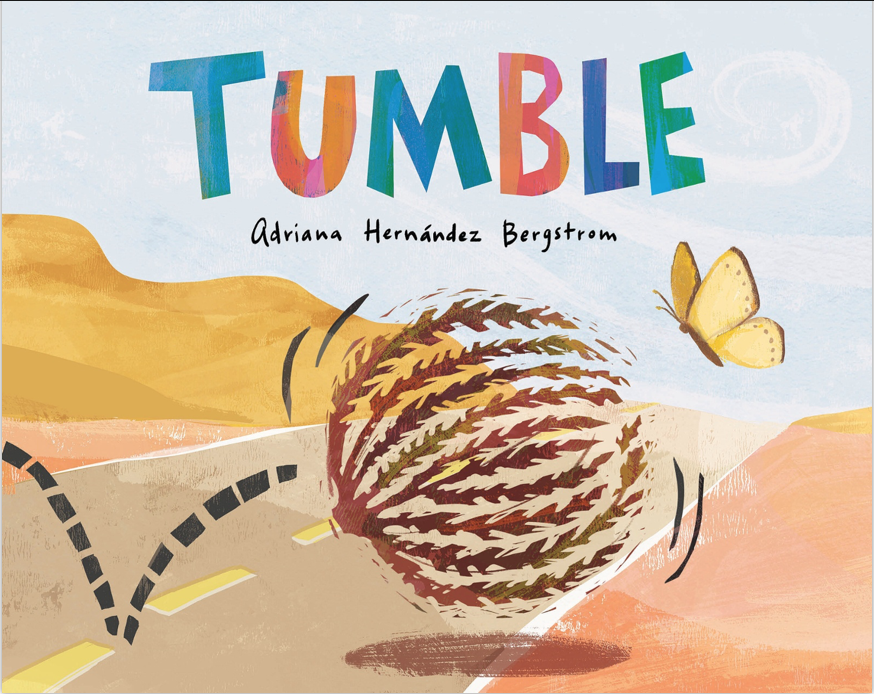 Tumble, written and illustrated by Adriana Hernández Bergstrom follows the journey of a tumbleweed as it rolls across a vast desert. The short rhyming lines explain the tumbleweed's movements in simple terms, and are fun to read aloud. The sky, landscape, and weather shift with each page turn, suggesting the passage of time and distance. Each page spread also features at least one other plant or animal in the illustration, suggesting the tumbleweed's existence within a larger ecosystem.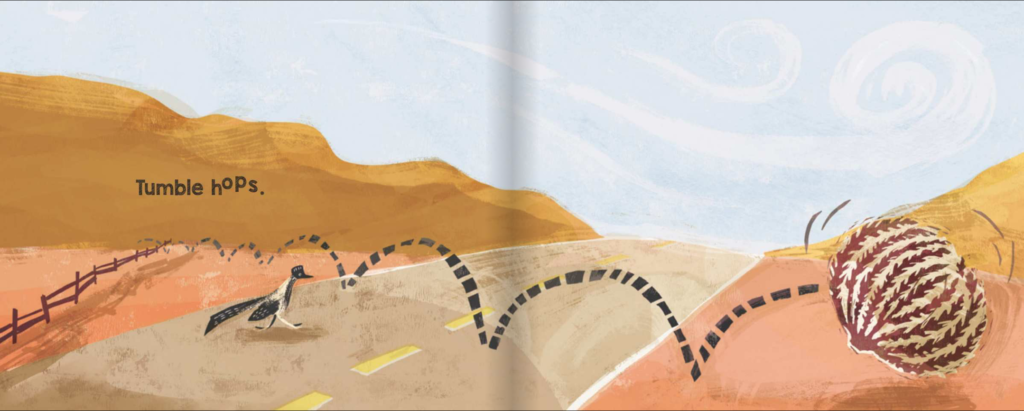 My kindergartners love it for the bouncy rhymes, beautiful colors, and the ease with which they can read the text with relative independence. This would also be a welcome addition to a second grade seed dispersal unit, where they can dig into the back matter on tumbleweeds, or use the "Can You Spot the Plants and Animals?" page as a springboard for further research. Tumble is a book that can be as simple or complex as the reader makes it, and it's a joy to read either way.
Adriana Hernández Bergstrom is with us on Picture Book Builders today to share her process in creating this book.
Welcome Adriana! You share on your website how the inspiration for Tumble came from your son in the form of a "writing duel." [Readers: hop over here to check out one of the most charming "stories behind the story" EVER]. What has Tumble's journey been since the initial conception?
TUMBLE was one of those rare experiences where maybe one or two words were changed from that initial concept I pitched. There was really not much that changed in terms of the language, and even most of my initial sketches became the underlying schema for the book you see today. I was really shocked by that, but also very relieved because there was a lot to do in terms of making the art once the text was approved!
Can you share with us some of your process for creating the art for Tumble?
My initial sketch dummy served as the base level sketches for my value studies. Then once that greyscale version was approved, using handmade textures combined with digital brushes, I made each picture. To guide me through the book I made a color script, which is a thumbnail version of the book with the basic colors I wanted to use on each page. This helped create a consistent feel and flow through each page turn. Then, as always, there were edits to the color version and the backmatter. There's always something to improve!

The art is stunning. I love the way the back matter invites children to reread and look for each animal and plant. A lot of the information is packed into the illustrations. What did your research for this book entail?
I really enjoyed the research for TUMBLE and there was a lot!
I interviewed Shana Welles, PhD who is a salsola (Russian thistle, a kind of tumbleweed) expert! She spent an hour clarifying a lot of my own misconceptions about tumbleweeds as well as educating me on the particulars of tumbleweed biology. I came to her with my manuscript and illustrated dummy based on my own research including several news articles Dr. Welles had written about tumbleweeds for various news stories. She pointed me to her own article about Salsolas: AoB PLANTS, 2020, Vol. 12, No. 1 (https://www.shanawelles.com/publications/) and USDA articles on Russian Thistles for reference. She taught me that the lifecycle I was showing in the book is somewhat flawed because the reader may infer that tumbleweeds "resurrect" and the majority do not. Most are annuals which I explain in the backmatter, but there are a few species such as selaginella lepidophylla (Resurrection Plant) that do, but they're ferns. So what to do! I chose to keep the text and images linear based on my audience. I knew I wanted TUMBLE to be for emerging readers as well as early elementary science classes. I chose the path of simplifying and condensing the information, and hopefully inspiring curiosity and for kids to want to learn more about the subject. The backmatter explains that most tumbleweeds are annuals which means 1 life cycle.
I also interviewed Tom Vandenberg, a park ranger working at Big Bend National Park regarding the flora and fauna of Big Bend National Park including prickly pear, mesquite trees, and agaves. He helped me figure out what insects you see most often as well as what plants are the most commonly encountered. I would not have known that ladybugs swarm in that area if not for him. Oh! And he reminded me about javelinas (peccaries) which are really quite adorable.
While I was working on the art for the book, I visited the Living Desert Zoo and Carlsbad Caverns in Carlsbad, NM, and several parks in and around West Texas. During those travels, I'd pick up the local nature guides. Also, I want to disabuse readers of any notion that I'm some kind of jet-setting fancy type. My in-laws live in West Texas, and we visit the area once a year if we can. Over the last 20 years of visits to the West Texas and New Mexico, I have truly enjoyed getting to know and love the natural wonders of the area. My brother-in-law sent me some of his amazing photos of roadrunners, hawks, and snakes from his time in the oil fields (thanks, Boone!) and these became reference photos for the art.
It's incredible how such a brief text is bolstered by such extensive research. The first time I read Tumble, I immediately imagined how it would fit into a plants unit, so I'm not surprised to learn you wove a lot of science into the journey of the tumbleweed. What do you hope readers will take away from Tumble?
I hope readers take away a sense of wonder for the desert landscape and give it a second glance. It's not obvious with deserts that there's a lot of life there, but there is and it's worth conserving it. I also hope TUMBLE sparks curiosity in readers and that they'll take it a step further and look into plant biology or the many ecosystems around the world. We're surrounded by such beauty!
I love when a book invites readers to look deeper and consider the natural world. Thanks so much for stopping by, Adriana, and congratulations on Tumble's release!