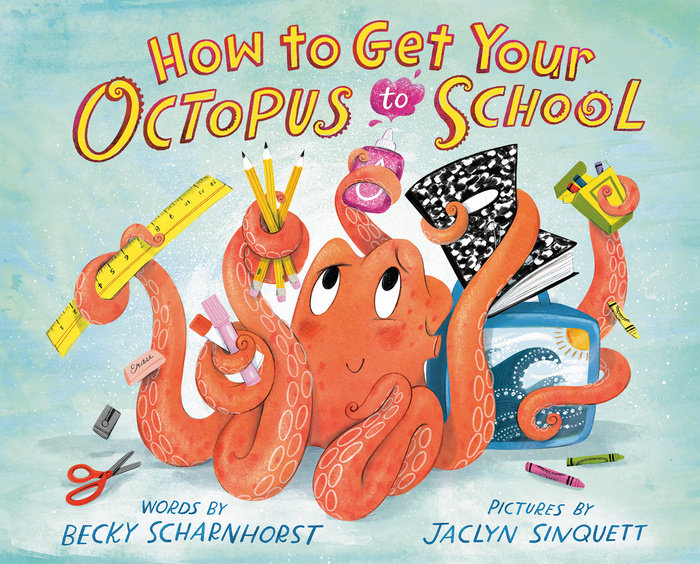 Hello, Picture Book Builders people. To celebrate the start of a brand new school year, my friend and critique partner, Catherine Bailey, thought we could use a back-to-school book around here. As usual, that smartypants pal of mine is RIGHT.
Please welcome Catherine and her thoughts on a book that stars an octopus because, well, I'm pretty sure your day calls for exactly that!
Ah September. My kids are back in classrooms, our house is quiet, and I can finally return to the business of being an author. The keyboard calls. It is time.
But first…
I need to double-check the car line schedule. Then just a short email to the homeroom mom. And, of course, a quick peek at the back-to-school pictures of my girls (from the past thirteen years). I should also probably stand in their bedroom doorway for just a minute.
Hm.
Apparently, I am having trouble letting go. While I definitely enjoy a return to routine, the first day of school always makes me feel a bit, well, clingy. Hence my choice of book for this blog post – HOW TO GET YOUR OCTOPUS TO SCHOOL. (It's me. I'm the octopus.) This charming picture book follows a young girl as she prepares her eight-legged pet for his first day of school.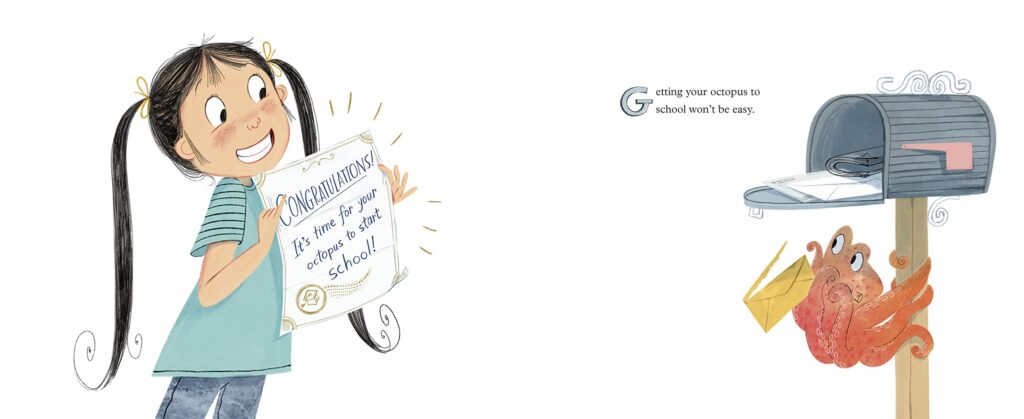 The story begins with a reluctant octopus who would rather stay home and "play hide-and-seek or dress-up." And he does just that, camouflaging himself in multiple spreads before finally coming out for a powerful hug – all before breakfast.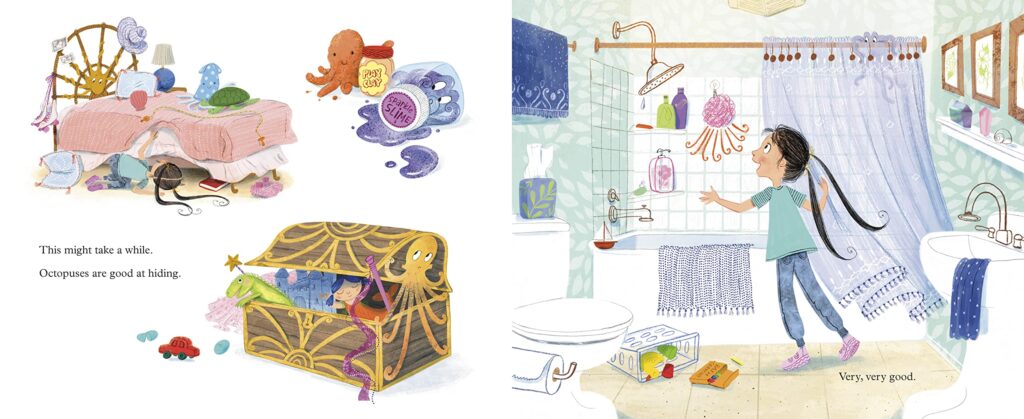 As the pages turn, author Becky Scharnhorst shows us more and more clever parallels between this nervous little octopus and a typical first-time student. From picking an outfit to having an ink-ccident, young ones will see themselves in his antics, and they'll enjoy the silliness of it all.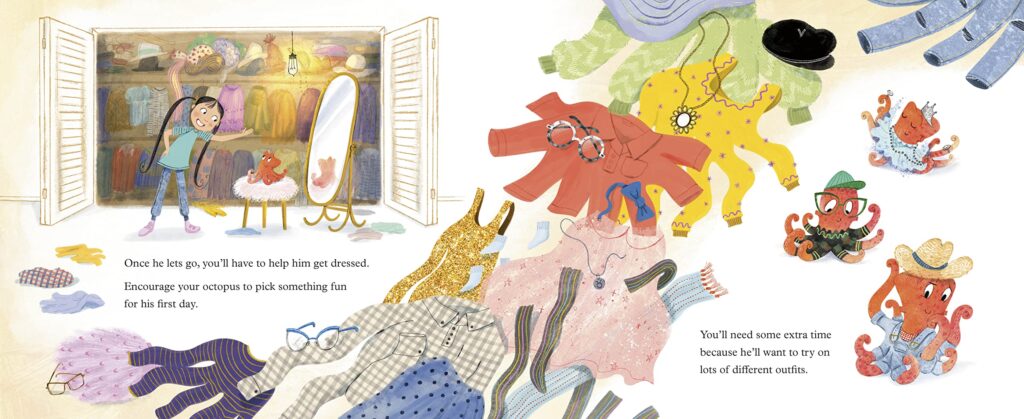 Does everything work out in the end? Will the octopus ever let go and stop hiding? And how does the young girl handle all of this? You will have to read to find out. And when you do – keep an eye out for these excellent examples of kidlit craftery…
The author develops her characters' personalities and enriches the story with specific details. For instance, this little octopus likes mystery mollusk on his toast, and grabs eight (of course!) stuffed animals on his way out the door.
The author accurately portrays octopi behavior – they really *are* excellent at hiding! They really *do* slip through teeny tiny openings! We aren't just getting a cute story; we are getting nonfiction learning.
The illustrator, Jaclyn Sinquett, adds an interactive layer to the book by encouraging readers to find the octopus in the artwork. Just imagine tiny fingers scanning the spreads, searching for tucked up tentacles.
The illustrator also highlights the themes of the book with wonderfully emotive expressions– eyes clamped shut, tiny frown – we can almost feel the resistance!
Overall, this book is sweet, relatable AND a great mentor text. Now if you'll excuse me, I have to prepare some after-school snacks.
BIO OF THIS PICTURE BOOK BUILDERS GUEST POSTER: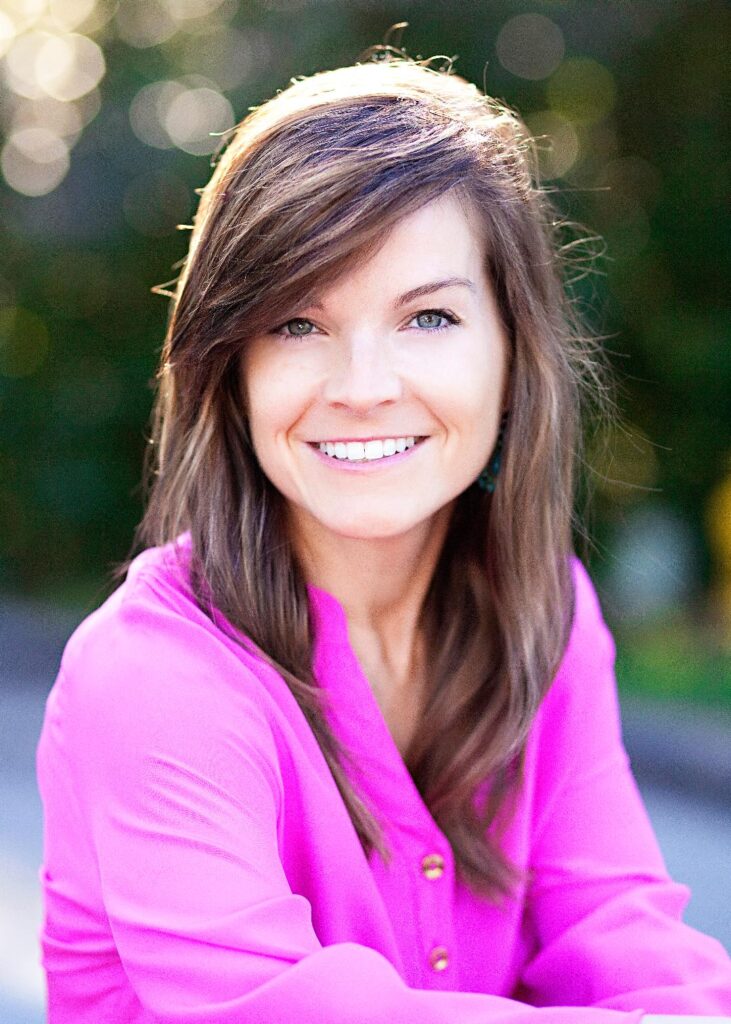 Catherine Bailey is an award-winning children's book author and youth presenter from sunny Florida. Her recent books include HUSTLE BUSTLE BUGS (LBBYR, 2022), DINOS DON'T MEDITATE (Sounds True, 2023), and the forthcoming GOOD MORNING SCHOOL (Union Square Kids, 2024). When she is not writing, or editing, or swatting at mosquitoes, she looks after her husband and two children. All three of them are quite sticky, and none like bedtime, but she loves them anyway. Her prior job titles include Lawyer, Sailboat Deckhand, and Cartoon Network Intern. Her hobbies include reading, travel and donuts. But mostly reading.
CATHERINE'S LATEST BOOK: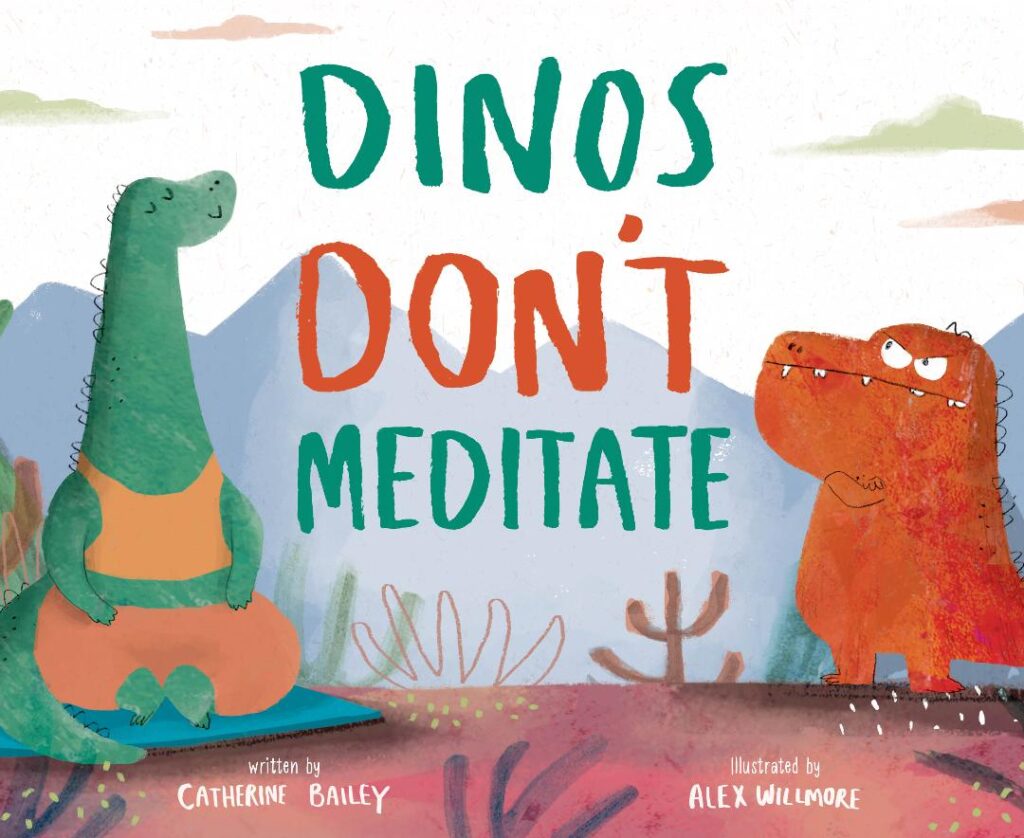 _________________________________________________
WINNER:
Congratulations, Kim A. Larson! YOU won a copy of You Go First, written by Ariel Bernstein and illustrated by Marc Rosenthal.