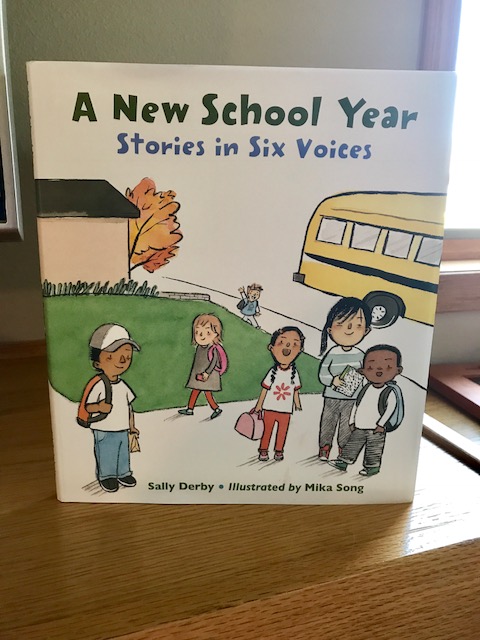 I know.
I KNOW.
It feels like summer vacation just started. You've barely cleaned out your kid's backpack from this past year. You still have friends' graduation parties to attend. You haven't even taken a vacation.
But the calendar does not lie, my friend. Now that July 4 has passed us, back-to-school ads and school-supply aisles are coming whether you like it or not.
But don't despair. There's still some summer to enjoy.  And when you absolutely must think about going back to school, Sally Derby has the perfect picture book to help you do it — A NEW SCHOOL YEAR: STORIES IN SIX VOICES (Charlesbridge, 2017) illustrated by Mika Song.
This is a sweet, heartfelt collection of free-verse poems told from the view of six students — from kindergarten through fifth grade — who are getting ready  for the new school year. They're a mix of kids from a mix of families who each have very real reasons to be excited and nervous about the upcoming year.
What I love about this book the most is how well the poems capture the things kids worry about — having a new teacher, getting to school earlier than everyone else, making friends, whether or not to wear your hair in a ponytail. For example:
My supplies are in my book bag: A three-ring binder and number-two pencils and some erasers that smell like bubble gum. I hope I'm not supposed to have a ruler or a  compass or a …
Miss Kring won't be my teacher for second grade like I wanted. Instead I'll have a new teacher, someone I don't even know.  The letter said his name is Mr. Patterson. Teachers at my school aren't called Mr. Their names begin Miss or Mrs. Like they're supposed to.
Last year, I knew everything about kindergarten. I knew all the kids and the teacher. I knew which was my seat and how  to ask to use the bathroom and where it was. Now I have to learn everything all over again. What if I make a mistake?
I read an article once suggesting that when your child was worried, you should ask them if  this was a big worry, a medium worry or a small worry with the goal of helping them see that many worries really are small.
But things we think are small worries can be really and truly HUGE to kids.  And the parents and teachers in this book do a great job of responding to those worries. My favorite example is how Carlos' father responds to his son's worries about making friends in a poem called "What If?"
"So many 'what ifs' from you, always, always, and most of them never happen, verdad?"
The poems also capture the small victories of childhood. The first-grader who stops to see the kindergarten teacher on the first day to show her how much he's grown. The joy of having friends to walk home with. The hope of getting a chance to take care of the classroom rabbit. The realization that "kindergarten isn't as hard as I thought."
I could totally see teachers reading this book to their returning students and having them share or draw or write what parts of coming to school worried or excited them.
As a reader, this book is for you if you're a teacher or a librarian or a parent or simply someone who remembers going back to school.
As a writer, this is the type of story I aspire to write. Simple. Heartfelt. Eminently relatable and true-to-life. Betsy Bird reviewed the book recently and called it, among other things, "cuddly and utterly essential." I could not agree more.
And, Charlesbridge created a blog post and video describing how the art for this project was made. It's also worth checking out.
So add this to your cart when you're stocking up on glue sticks, spiral notebooks, Kleenex and crayons.
You'll be glad you did.