If someone asked you to name the first astronaut that popped into your head, you might say, "Neil Armstrong." Or, "Buzz Aldrin." Or, maybe, "Sally Ride" or "Mae Jemison."
You probably wouldn't say "Alan Bean."
But after you read Dean Robbins' newest picture book — THE ASTRONAUT WHO PAINTED THE MOON; THE TRUE STORY OF ALAN BEAN (Orchard Books, 2019) — you'll never forget this astronaut again.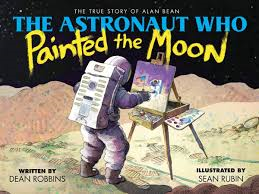 Bean, who was part of the Apollo 12 mission, was the fourth man to walk on the moon. He had all the qualities most astronauts have — intelligence, bravery, curiosity and a scientific bent. He also had one quality no other astronaut to visit the moon has possessed. He was an artist.
So after Bean returned to Earth, he began painting what he's seen on the moon. In some ways, his paintings were very scientific. Before he painted anything, Bean built a model of the moon's surface and used a light as the sun to make sure he got the angles and shadows right.
In other ways, Bean's paintings were creative. He used bright colors not found on the moon to convey how being on the moon made him feel. As Robbins writes:
He added red and purple to the gray dust.
Blue and green to the black craters.
Yellow and orange to the white sunlight.
The Moon didn't look exactly real, but Alan didn't want it to.
The painting showed how stunning outer space looked through his eyes.
Bean used actual moon dust in some of his paintings. He also used tools he'd used on the moon — and his very own moon boots — to give the paintings texture and dimension.
This book is a beautiful work of nonfiction. Robbin's text is poetic and does a great job of taking the reader through Bean's life without getting bogged down in extraneous detail. And there's wonderful back matter including a timeline, bibliography, author's note and samples of Bean's actual paintings.
The book is illustrated by Sean Rubin, and it's a visual delight. The endpapers are purple and yellow moon footprints, and the center spread is a wordless look at Bean's first glimpse of the moon.
This book is wonderful for space fans — of which Robbins is one — and for artists and dreamers of all kinds.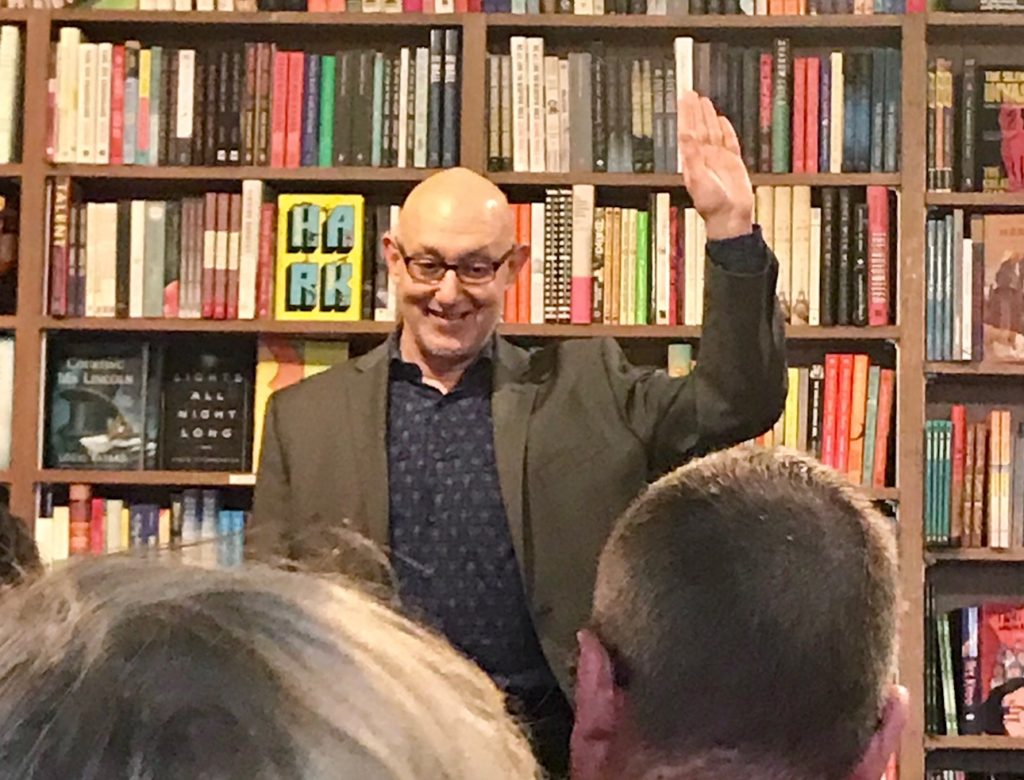 Dean Robbins talks about his love for space and how he researched and wrote this book at Mystery to Me, an independent bookstore in Madison, Wisconsin.