If you're a writer or a reader, you may have heard someone say: "There's no such thing as a new story — there are just different ways of telling the same ones."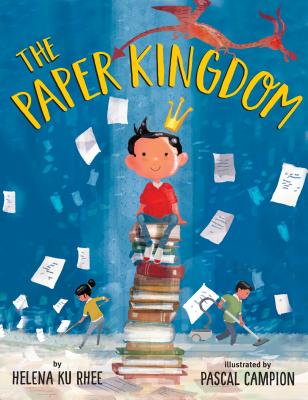 That might be true from a thematic or structural standpoint, but I recently read a picture book — THE PAPER KINGDOM written by Helena Ku Rhee and illustrated by Pascal Campion — that seems quite new to me.
The book, released by Random House on Feb. 18, 2020, tells the story of Daniel and his parents. Usually, when Daniel's parents go to work at night cleaning a big office building, Daniel sleeps at home with his Aunt Clara watching over him.
But when Clara can't come one night, Daniel's parents take him along to their job and tell him stories about the Paper King and Queen who rule the office and the dragons that live in it.
Daniel wishes he were at home in bed, but he gets caught up in his parents' tale and watching them sweep, dust, scrub and clean. At one point, Daniel asks: "Why are dragons so messy? Shouldn't they pick up their own trash?" His mother responds, "Maybe they ate in a rush and forgot to clean up. They don't mean to be naughty."
Daniel is still concerned. After further discussions with his parents, he decides that he will be the Paper King when he grows up and he will make sure the dragons do a better job of picking up after themselves so other people don't have to.
Kirkus Reviews called this book, "A beautiful, must-read tribute to hardworking families and the magic they create" and gave it a star.
This book works so well — and breaks new ground — for several reasons.
1. It highlights the power of using imagination to make a less-than-ideal situation fun. Readers will be able to look for opportunities in their own lives to make work more fun.
2. It clearly shows the love this family has for each other. It's apparent in every word of the book. And family love is one of my favorite things to see in picture books.
3. It showcases a situation that many folks might not think about or might forget about. Who's cleaning up after you leave your workplace or a restaurant or any other public spot? How do your actions while you're there make their job easier or harder? It would be another great conversation starter for families.
4. It's inspired by the author's childhood experiences of sometimes going along while her parents cleaned offices and told her stories. Rhee dedicates the book to them, and there's an author's note describing her memories.
The book also has lovely art. I was especially impressed with how Campion depicts the city and office at night and how his art hints at the dragons that supposedly live in the office.
I highly recommend this title — for reading, enjoying and discussing.
A TOPIC CHANGE: Want to learn more about mentor texts?
I'm partnering with the Indiana SCBWI chapter to give a Zoom webinar on July 12 about using mentor texts to improve your own picture book writing. Here are the details:
How to be Inspired by the Masters. No Stealing Required.
I love reading books by other authors. And, when they are books I especially adore, I love looking to them for inspiration and using them as mentor texts. I'll show you how some of my own books were directly inspired by books I love, even though they ended up being nothing like them. I'll also share techniques you can use to take your mentor texts, brainstorm ideas from them and create something wonderful that's totally your own.
The webinar costs $10 for SCBWI members and $15 for nonmembers. There are also student rates. You can watch the session live or on demand afterward. Details and registration information are available here.