In a previous post I shared about books with personal stories that are told in universally appealing ways, and I recently noticed that one of my favorites of recent years also has this quality in spades.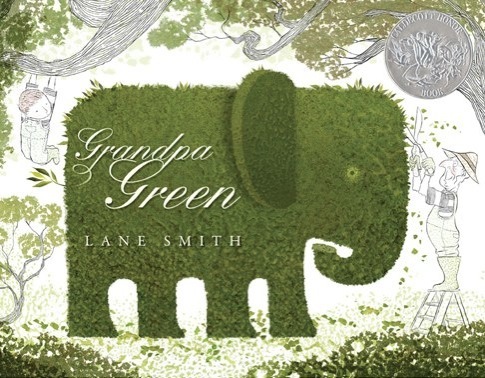 Grandpa Green, by Lane Smith, is a visually and emotionally beautiful book – the story of a man's life told through his garden. While the story is about the life of one man, it's a life that represents the grandparents of many.
The story is told in first person from the point of view of the Grandpa's great-grandchild. This allows the text to be simple and straightforward, while the illustrations of the sculpted garden bring history to life. In Linda Ashman's recent article about Lillian's Right To Vote, she mentions that the present tense lends a sense of immediacy to a historical tale. In Grandpa Green, I think this is accomplished through the setting. All of the events from the past are recreated and expressed through the grandfather's garden, in the present.
At the core of the story is another universal theme — the ageing and memory loss of a loved one. Grandpa Green came out in 2011, around the time my own grandmother's health and memory was in decline. There's a lot of sorrow in this experience, but this book takes a difficult topic and tells the story in the spirit of joy and acceptance. It creates a comforting atmosphere, and gives the sense that our memories are never lost, but live on through our stories, creations, surroundings, and families.

He used to remember everything. 
Now he's pretty old
and he sometimes forgets things
like his favorite floppy straw hat. 
But the important stuff, 
the garden remembers for him. 
My grandma passed on during the Christmas of 2013, but in her physical absence her presence is still all around – in the smell of frying bacon or fresh cut grass, in my aunt Dianne's hugs, and my cousin Kelly's laugh. I have her green and yellow flowered dishes. And my memory of her is also here, in this book.